2SLGBTQ+ History Month 2022
Published: Saturday, October 1, 2022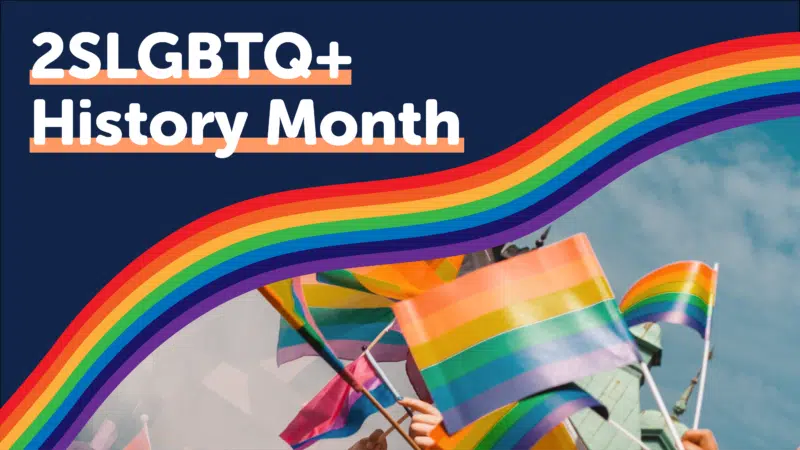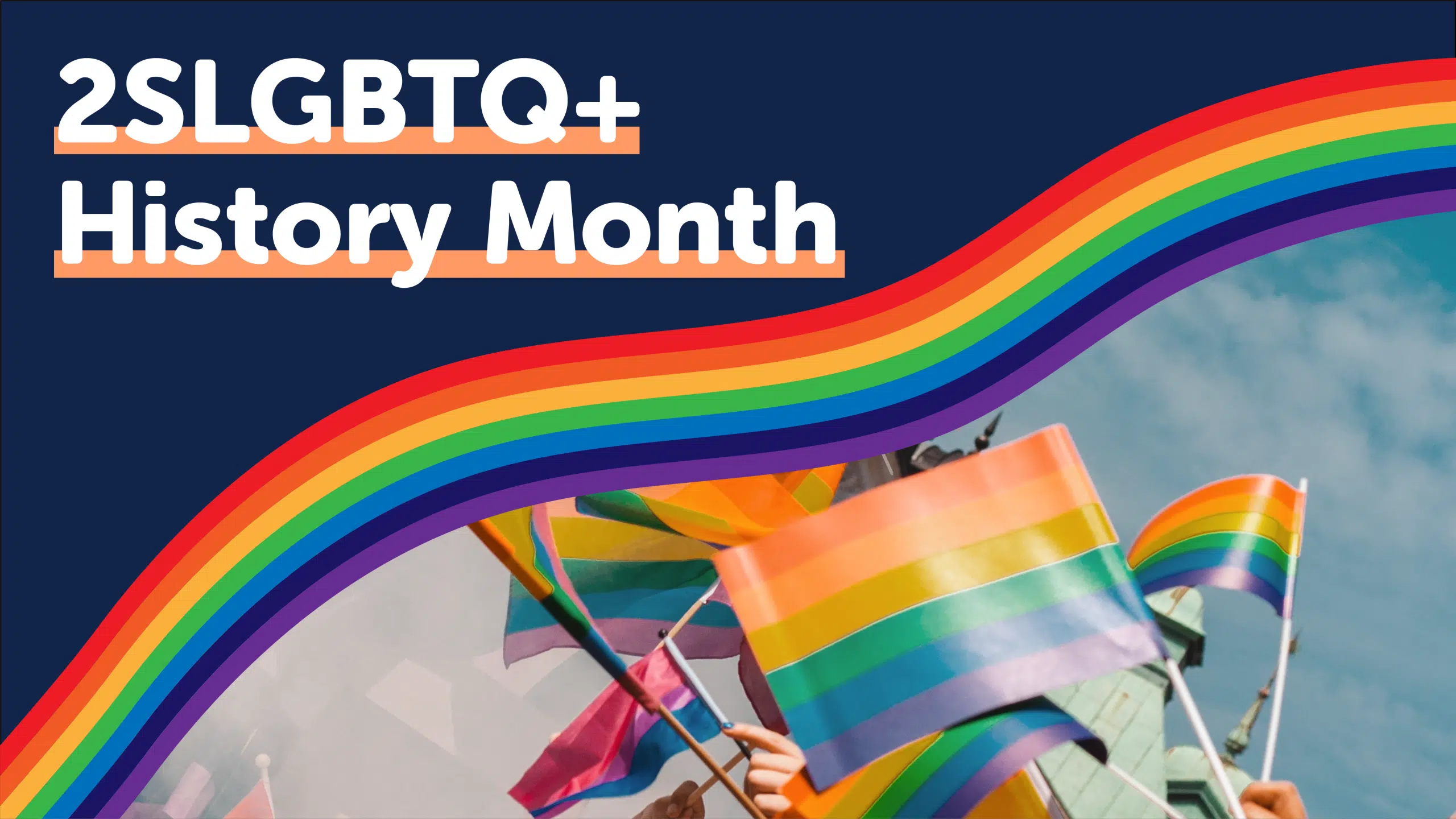 When asked about the history of pride, queer rights, or 2SLGBTQ+ history, what often that comes to people's minds (rightfully so) are the Stonewall Riots which occurred in New York City. But did you know Canada has its own history of 2SLGBTQ+ victorious resistances and celebrations? There are many turning points in the struggle for, and eventual celebration of, 2SLGBTQ+ rights just like…  
May 14, 1969: Canada decriminalized homosexual acts between consenting adults with the passage of the Criminal Law Amendment Act first introduced in December 1968. It received royal assent on June 27. One day before the Stonewall Riots took place!   
Take a few minutes to read the article below to learn ways to celebrate, discover more history, find resources & community, and note upcoming 2SLGBTQ+ days of observances.  
How can I Celebrate 2SLGBTQ+ History Month?
1. Learn about the history of 2SLGBTQ+ 
2SLGBTQ+ history month aims to highlight the achievements of those who have spearheaded and led the cause for two-spirit, lesbian, gay, bisexual, transgender, and queer people. Read up on them and learn about their ideas and ideologies. Check out the next section as a starting point! 
2. Rock the Rainbow! 
The rainbow flag is most popularly associated with the 2SLGBTQ+ community, but did you know that each colour of the rainbow's flag has a different meaning?  
Red is for life,

 

Orange is for healing,

 

Yellow is the sun,

 

Green symbolizes nature,

 

Blue is for peace, and

 

Purple is for spirit.

 
Wear the colours of another 2SLGBTQ+ flag, such as the Transgender flag, that is important to you or get creative in other ways to express your support. 
3. Attend an event 
2SLGBTQ+ events don't just happen in June for Pride! There are countless more seminars, mini-parades, and celebrations that take place during 2SLGBTQ+ History Month and the rest of the year. Check out the following: 
And follow Glow on Instagram to be in the know on events as soon as they are announced: @uwglow.  
Where can I learn about Canadian 2SLGBTQ+ History?
Canada-wide 2SLGBTQ+ History 
Looking for a starting point? Queer Events is a fantastic resource and starting place to learn about Canadian 2SLGBTQ+ History. In 2019, they wrote an article titled: Four Key Protests in Canadian LGBT2Q+ History.  
These four key points in 2SLGBTQ+ history led to significant change:  
the Brunswick Four (1974) case;

 

Operation Soap (1981);

 

the Sex Garage raids (1990) and

 

the Pussy Palace raids (2000)



Check out a timeline of queer Canadian History at https://www.queerevents.ca/canada/pride/history 
Waterloo & Surrounding Region 2SLGBTQ+ History 
The Grand River Rainbow Historical Project began in March 2011. It contains an interesting and useful record of the histories of our intertwined rainbow communities in the Grand River area of Southwestern Ontario. For this project they "are interpreting rainbows to include, but not be restricted to, the following communities: lesbian, gay, bisexual, transgender, transsexual, two-spirit, intersex, queer, questioning, fluid, and asexual."  
Their website is self proclaimed "still very young,": they note on their site they have a big backlog of information yet to be processed and are also looking for more source materials. So, the information here will grow considerably over the coming year! 
Click here to check it out here: http://www.grandriver-rainbowhistory.ca/ 
Two-Spirit & Indigiqueer History 
The teachings we hold around sexual orientation, gender identity, and expression are largely westernized. Diverse expressions of gender and sexuality have long predated the colonization of Turtle Island.  
If you're looking to learn more about Indigiqueer history, check out… 
CBRC Two-Spirit Terminology Guide:  

The goal of this terminology guide is to increase awareness of the Two-Spirit Peoples and communities, and to provide safer language for researchers to use. https://www.cbrc.net/two_spirit_terminology_guide 

All Nations Sharing Circle (hosted by Spectrum) 

This group is co-facilitated by Red Sky Woman (Hollee George) and a guest elder or knowledge keeper. It meets monthly on the first Tuesday of the month from 7-9 pm. Each month they have a discussion topic for the first hour of the meeting. The second half of the meeting is open for allies to ask questions and learn about the experiences of Indigenous people in our community. Find more info on their events calendar! 
Since Glow has gathered around the premise of supporting the gender and sexually diverse students on our campus, they and WUSA also acknowledge that we are fighting for rights to identities that have a history on these lands.  
Two-spirit people have existed on this land for thousands of years as revered members of their communities but have been subjected to historical erasure by settlers.  
The Glow Centre's community was not the first gathering of queer and trans people on this land, and we do not claim to be. 
Where Can I Find my 2SLGBTQ+ Community and Resources…
…at the University of Waterloo? 
…in the Waterloo Region? 
Spectrum: Waterloo Region's Rainbow Community Space  
Events and resources in Waterloo Region  
Waterloo Region Rainbow Coalition  
WRRC is a volunteer-based community association that acts as a central hub for the local Rainbow community.  
tri-Pride Community Association Facebook Page  
tri-Pride is a community organization that celebrates Pride and diversity in the Kitchener-Waterloo and Cambridge region.  
QTBIPOC Toronto is a group for 2SLGBTQ+ women, trans and non-binary folx who are Black, Indigenous, People of Colour. They host virtual drinks, paint, board game or video game nights, queer dance parties, and more.  
QIPOC (Queer Indigenous and Queer People of Colour) Community Hub:  
Content created in partnership with House of Anansi, London, ON's QIPOC group. The webpage hosts resources, virtual events and educational information.  
OK2BME is a set of support services for 2SLGBTQ+ youth in Waterloo Region. 
Out on the Self is a queer library and resource centre in Guelph that offers services to the 2SLGBTQ+ community 
OCASI Positive Space Initiative
OCASI's Positive Space Initiative aims to support the settlement sector to more effectively serve 2SLGBTQ+ newcomers in Ontario.  
Rainbow Health Ontario 
Rainbow Health Ontario strives to create opportunities for the healthcare system to serve 2SLGBTQ+ communities better.  
Sherbourne Health
Sherbourne offers a wide range of primary healthcare programs and services to lesbian, gay, bisexual, trans, two-spirited, intersex, queer or questioning individuals. Their goal is to provide dignified, non-judgmental services to help clients feel better, cope better with day-to-day challenges and address specific 2SLGBTQ+ health issues. 
Upcoming 2SLGBTQ+ Days of Observances