Equity, Opportunity, and Innovation Fund
This fund exists to assist with events that bring awareness and to the systemic issues borne by marginalized groups on campus, facilitate attendance at conferences or other development opportunities, and to assist with costs of unique one-time projects that benefit students at-large.
The Equity, Opportunity, and Innovation Fund mandate is:
Equity: dedicated to projects that aim to address systemic issues borne by marginalized groups on campus. Such events and projects that bring awareness to and advocating for marginalized student issues on campus will promote a safer, healthier and more accepting campus culture.

Preference will be given to projects which have not applied to this fund in the last two years in an attempt to diversify the equity offerings and to not have annual events which are reliant on this funding.

Opportunity: Dedicated to supporting students who wish to engage in conferences or development projects.
Innovation: Intended to remove the financial barriers associated with the development of new student-run initiatives, projects, and/or events. If the project is intended to operate long-term, these funds shall act as 'seed funding', allowing the organizer to establish 'proof of concept' to secure a more permanent revenue source.

Any project funded under this portion should provide a continuing benefit to campus.
The Equity, Opportunity, and Innovation Fund is administered by the Internal Funding Committee (IFC), a standing committee of Students' Council.
The committee is chaired by the VP and made up of two members of Council and two students at-large, elected by Council every term. It awards funding from the funds as reimbursements for expenses for student projects benefiting Waterloo undergraduate students.
EOI 2020-2021 Decisions
| Group Requested Funding | Description | Amount Approved | Decision |
| --- | --- | --- | --- |
| TEDxWaterloo | Virtual Conference Swag and Supplies | Up to $3,000 | Passed – Conditional on full budget being submitted |
| Students Helping Seniors Club | Vulnerable Sector Checks | $20/member | Passed |
| Women in CS | Global Development Speaker Panel | $140 | Passed – Conditional on full budget being submitted |
| Orientation | NODA Attendance | $2,700 | Passed – Only because Orientation fee likely not charged |
Student Life Endowment Fund (SLEF)
Calling all big-idea people! Do you want to improve our lounges, study rooms and student space? Do you have awesome ideas, but need some help with the funding? WUSA can help!
Our Student Life Endowment Fund exists to help students fund these types of projects and more. Since the Spring of 1992, undergraduate students have contributed to the Endowment Fund, which was initiated as part of the 'Coordinated Plan to Improve the Quality of Student Life at UW'. Today, the fund stands in excess of $1 million. The interest on the fund is used each year to support various projects on campus.
Normally, in order to be awarded a grant, the project needs to fit within the following priorities for disbursement:
The improvement of health, wellness, and safety on all campuses
The improvement of accessibility on all campuses
The renovation to student operated or managed spaces
Connecting students to available university resources
The improvement of current lounge and study spaces
Activities promoting or furthering the academic goals of the Federation of Students
Joint projects with Municipal or Regional governments that improve student well-being
Any projects outside the sphere of these priorities are eligible for funding, but as funds are limited, such projects will receive slow and careful consideration before awards are granted.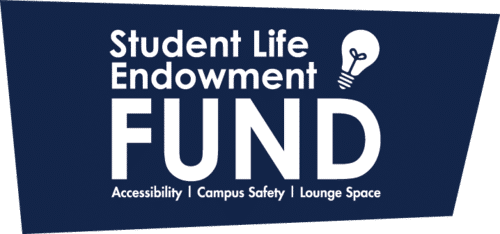 SLEF 2020-2021 Decisions
| Group Requested Funding | Description | Amount Approved | Decision |
| --- | --- | --- | --- |
| RAISE | XChanges Speaker Fee: Angela Davis | $10,000 | Passed - Event should not continually rely on SLEF |
| Conrad Grebel Student Council | Railing - Extended funding from past year | $23,000 | Extended to April 2022 |
| Waterloo Sustainability Project | Renovation Costs for Used Clothing Store | $7,802 | Passed |
| Technology in Pharmacy Network | HackRx Event Expenses | $1,000 | Passed - Not to be used for cash prizes |