You're Invited to Welcome Week!
Published: Monday, September 11, 2023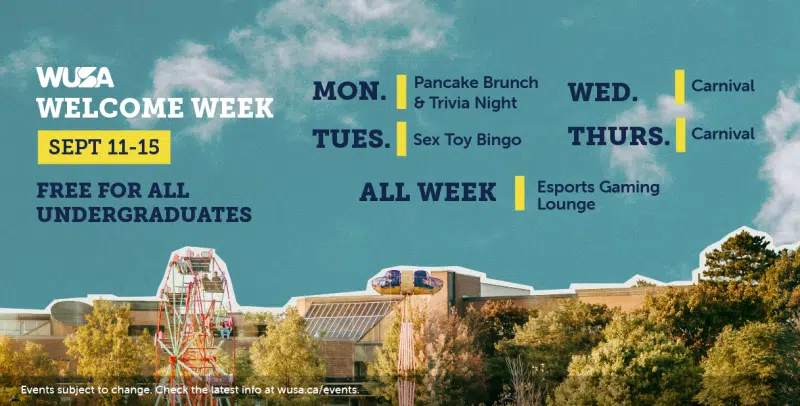 Hello and welcome Warriors!  
WUSA is happy to have you all with us and we are so excited for all the things we have planned for you! 
We understand that coming to university is a bag of mixed emotions, no matter if you are a new student or a returning student. To help with that, we have a whole week planned for you all that would help to take some of that stress away and to create opportunities where you can meet new friends and make some lasting memories.  We encourage everyone to come to these events and have some fun!  
We start off the week with WUSA`s Pancake Brunch because who doesn't love free food, right? This event will take place on September 11th at SLC BMH Green and MC from 9:30am to 12:00pm. This event is an opportunity to socialize and meet new people while getting some food to kickstart your day! 
Next, we have the Esports Gaming Lounge which takes place the whole week starting from Monday in the SLC Black and Gold Room. Please note that this event is for everyone- you don't have to be a pro gamer to participate. We invite everyone to try some games with your friends and have some friendly competition. We'll have games like Super Smash Bros, FIFA, and more! 
The third event is Trivia Night which takes place again on Monday from 7:00pm – 9:00pm at the SLC Student Lounge. This will be a fun night where you can participate as teams, or if you come alone, you'll be placed into teams! This event gives you the opportunity to create some fun memories with your groups or find new people to hang out with. There are also prizes, so bring your A-game and have a blast.  
The fourth event is Sex Toy Bingo which is a unique event happening on Tuesday, September 12th in Fed Hall. There are two different times for this particular event. One is an all-ages event happening at 6:30pm and the other is a 19+ event happening at 9:30pm Don't miss the chance to come and win some great prizes while having some snacks! 
The last event for the week is the WUSA`s Carnival which is an amazing event happening on September 13th from 6:00pm – 12:00am, and on September 14th from 5:00pm – 11:00pm. That means two nights, so double the fun for you all! This event has everything- from fun games to food to some staggering performances. You surely don`t want to miss this event. This is one of the best places to interact with people, hangout with your friends and try some fun carnival rides. 
That will be all for now Warriors, but we have tons of events and activities planned for you guys so stay tuned for further articles. WUSA wishes you a week full of fun!
Siddhant Chhughani
Communications Assistant