The Ongoing Fight to Eliminate Violence Against Women
Published: Thursday, November 25, 2021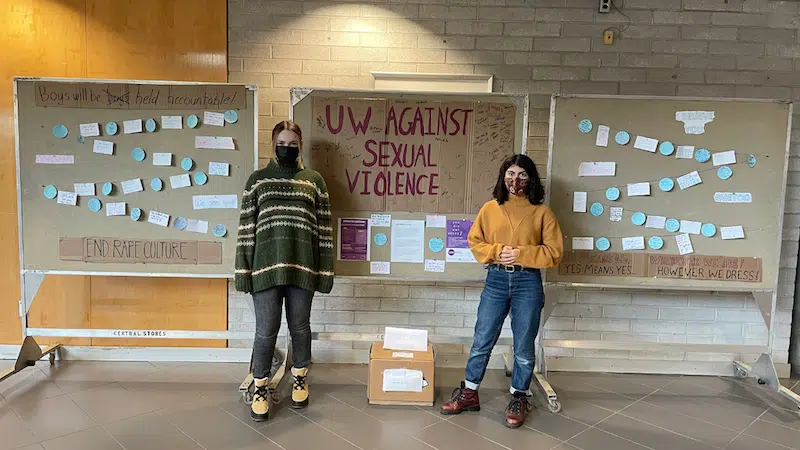 Trigger Warning: This article includes a discussion of gender-based and sexual violence.
Every year on the 25th of November, the world unites in commemorating the International Day for the Elimination of Violence Against Women, and rightly so; violence against women is an indisputable invasion of their fundamental human rights, and it is our collective responsibility to create a world where gender-based violence is eradicated completely.
Originally issued by the United Nations General Assembly in December 1993, the Declaration on the Elimination of Violence Against Women is a monumental symbol for change and an acknowledgement of every woman who has ever felt powerless, vulnerable or afraid under the threat of mental, physical or sexual abuse.
We see you. You are worthy of a beautiful and comfortable life, with every freedom granted to you. We hear you, and we stand by you.
Knowledge is power
Considering how the outbreak of COVID-19 has shed light on emerging data and reports that implicate all types of violence against women and girls, particularly domestic violence, and how reports have surged during mandatory quarantine periods, it is especially important for us as allies to correctly identify gender-based abuse. According to the United Nations, violence against women and girls (VAWG) manifests itself in a myriad of forms, including:
partner violence during moments of intimacy (battering, psychological abuse, marital rape, femicide);
sexual violence and harassment (rape, forced sexual acts, unwanted sexual advances, child sexual abuse, forced marriage, street harassment, stalking, cyber-harassment);
human trafficking (slavery, sexual exploitation);
female genital mutilation;
child marriage.
These horrific human rights violations have burdened the lives of many vulnerable women, especially in communities that lack the adequate resources to offer them any help or guidance. From post-traumatic stress disorder (PTSD) to depression and suicidal behaviour, it is time for us to take care of the lives of women and create a world where they feel valued and prioritized.
Visit the Gender-Based Violence Knowledge Centre to learn more about gender-based violence and access current statistics, reports, tools and more.
Raise your voice
Getting involved is the first of many steps required in eliminating violence against women worldwide. Earlier in the fall term, over a hundred students took part in a walkout around Ring Road. They marched in solidarity with the survivors of the recent reports of assaults at Western and pushed for a more positive culture surrounding the support of sexual violence survivors here at UWaterloo. We sincerely thank UW Against Sexual Violence for taking the initiative to organize this walk out and everyone who was able to come out to march.
Nothing great is ever achieved alone, and here are a few ways you can get involved as an undergraduate student.
The 16 Days of Activism against Gender-Based Violence is an opportunity for undergrads to raise their voices in support. This is an annual international campaign that begins on the International Day for the Elimination of Violence against Women (25 November 2021), running through Human Rights Day (10 December 2021). A few events happening over these 16 days are:
UW Against Sexual Violence | Love Letters to Survivors
Lannah Garrett (she/her), Sophia Richardson (she/her), and Allen Lu (he/him) of UW Against Sexual Violence have come together to create a display featuring love letters to survivors. At the center of this display is the same poster students marched with at the UW Solidarity March earlier this term. This display is to show that sexual violence and rape culture have no place at UWaterloo and to encourage consent and education across our community.
Stop by the food court in the Student Life Centre (SLC) to read the notes already on the display or to even submit your own love letter. A box with paper is ready for submissions under the display. Love letters will be added to the display throughout the 16 days.
Sexual Violence Prevention and Response Office | #Purple4Prevention
The Sexual Violence Prevention and Response Office at Waterloo is partnering with the Sexual Assault Support Centre of Waterloo Region (SASC), Conestoga College, and Wilfrid Laurier University to address sexual violence on campus through a new campaign: #Purple4Prevention.
#Purple4Prevention invites you to take a stand against sexual and gender-based violence, and to show solidarity by purchasing and wearing the new custom tee on Nov. 25, 2021. By purchasing and wearing these t-shirts, it shows how many in our communities stand in solidarity on an issue that often feels very solitary and isolating. Wearing these shirts and sharing messages online also creates opportunity for discussion and learning about the role we all play in creating safer campuses and communities.
University of Waterloo | National Day of Remembrance Memorial
Canada changed forever on December 6, 1989 when 14 young women were murdered in a gender-based act of violence at l'École Polytechnique de Montréal.
The University of Waterloo, in partnership with the Canadian Federation of University Women Kitchener-Waterloo, is hosting a special ceremony of remembrance.
You are invited to attend virtually, as the University of Waterloo comes together to honour the National Day of Remembrance and Action on Violence Against Women. This day is an opportunity to reflect on and honour the lives of 14 young women, and a reminder to take action against gender-based violence that those who identify as women face.
The event will be shown on YouTube Live.
Local Supports
WUSA & UWaterloo Resources
Waterloo Region Community Resources
If you are in an emergency situation, please access 9-1-1 (in Canada), for emergency services in your area. If you are outside of the 9-1-1 service area, please access available emergency services or call a crisis line in your area.
Click here for a list of Crisis Support Services provided by the Human Rights, Equity, and Inclusion office. You may also want to consult the list of additional support services for people affected by gender-based violence.
Your Content Goes Here