You Don't Want to Miss Out – Free WUSA Handbook!
Published: Tuesday, February 16, 2021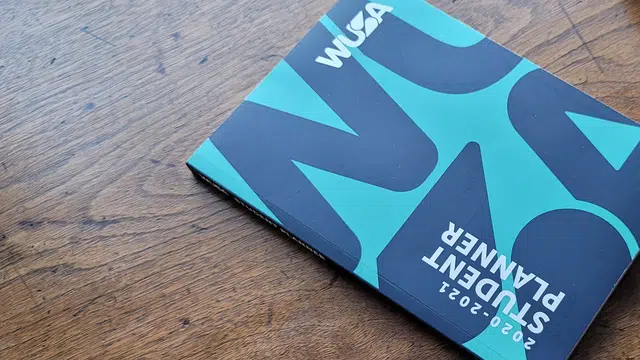 Warriors, whether you enjoy keeping a physical agenda to keep track of your thoughts, deadlines, and schedules or you've never tried it before, we've got the perfect thing to get you started! A free agenda . . . you heard us, we said free!
Our handbook is packed with information on WUSA, our services and everything you need to get the full experience of being a Waterloo student. For 60 years, WUSA has been creating free handbook agendas to give out to our undergrad students in September as they begin their academic year. Lucky for you, our latest edition of the handbook is in stock and ready to be delivered right to your doorstep for no cost at all!
As the pandemic continues to present its challenges, we have redesigned the handbook and produced an agenda without dated pages – so you can use it as you like!
So how can you get yours:
Ordered textbooks from the W Store?
The W Store has agreed to include a handbook in every order they ship out you. So, if you ordered your textbooks after January 12th, you can sit back and relax; your agenda will be in the mail soon.
Otherwise, give us your address and we'll ship it to you, free of charge!
If you are inside Canada this term please fill out the Students in Canada form.
Everyone else, please fill out the Students Outside of Canada Form.
Hurry! There are only a limited number of copies available, so get yours today!
BUT WAIT… IT GETS BETTER…
You can also enter to win an amazing stationery set to go with your free agenda! Claim your free agenda and simply DM us a photo of your work-from-home setup or study station on our Instagram account (we might even feature your setup on our social media channels)!