Published: Wednesday, November 9, 2022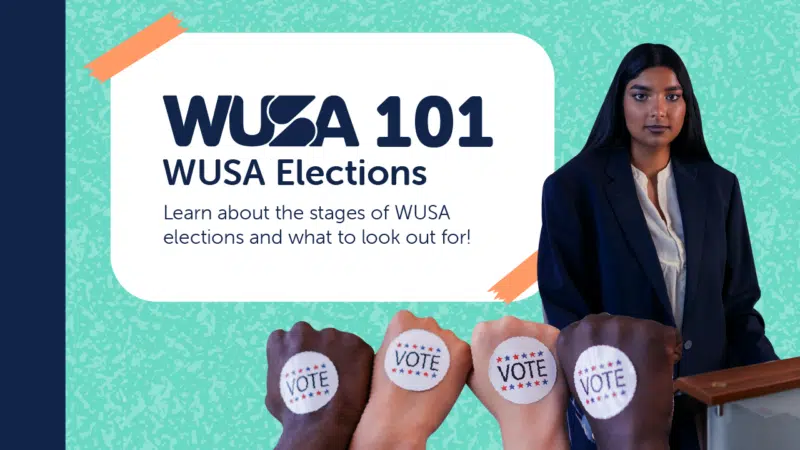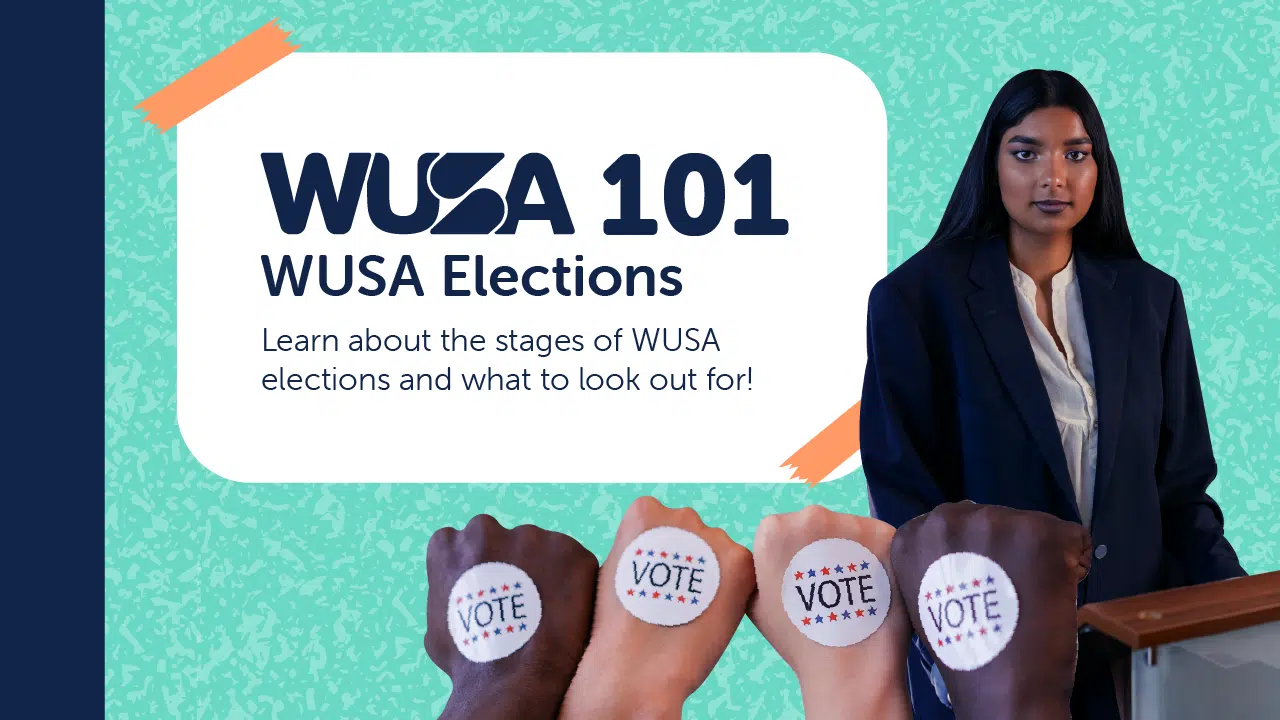 Written by: Bella McKenzie
Welcome back to WUSA 101!
Today's lesson is all about the upcoming WUSA Election.
First, what is the WUSA Election?
The WUSA General Election is the annual election where UWaterloo undergrad students can nominate themselves or other undergrad students to run for WUSA's Board of Directors. After the campaign period, undergrad students (the collective owners of WUSA) vote for the student candidates they feel will best represent them in the upcoming year.
The Board of Directors (BOD) is WUSA's strategic governing body. They provide high level leadership to establish policies that set out the beliefs, governing principles, or views of the Corporation and are in the best interest of students.
The BOD represents WUSA to governments, university committees, and student advocacy alliances. It is also responsible for guiding WUSA's financial, human resources, legal and contractual affairs.
The 13 members of the WUSA BOD are comprised of the President, Vice President, and 11 at-large Directors. These are elected positions and an honorarium is provided to each of the 13 members of the WUSA Board of Directors. The Board of Directors meets at least once per month to report on progress on various student advocacy issues and to collectively adopt and review the policies of the corporation.
When do WUSA Elections Happen?
Voting for the WUSA General Election happens every winter term. The next election voting period will be held February 13 – 15, 2023.
How does a WUSA Election work?
The WUSA Election goes through a series of stages. Here's what you can expect:
Nomination Period: Dec 1st, 2022 – Jan 25th, 2023
Do you know a social advocate who would make an awesome leader? Or do YOU want to drive change that affects the lives of students at UWaterloo and across Canada?
Nominate yourself or other undergraduates for either President, Vice President, or any of the 11 Director positions at vote.wusa.ca by logging in with your WatIAM.
Remember:
⭐ Look out for the Nominations period especially! It's extremely important and essential for WUSA Elections.
⭐Different positions require different numbers of signatures to be nominated so check out WUSA Elections Nominations page for more details
Interim Period: January 26, 2023 – January 29, 2023
This period is intended to allow all candidates, campaign teams, and referendum committees to prepare and finalize their campaigns and campaign strategies.
During the Interim Period, the Chief Returning Officer (CRO) and the Elections and Referenda Officers (ERO) will hold a meeting to explain the rules for the election, by-election and/or referendum.
Campaign Period: January 30, 2023 – February 15, 2023
This is the time to learn about the candidates that made it through the nomination process and are one step closer to a seat on our Board. Look for candidate's posters, posts, information, and more! Figure out which candidate(s) you want to be driving WUSA's direction for the next year.
Voting Period: February 13, 2023 – February 15, 2023
Time to lock in your votes! This is when you can vote online. Students will vote for their President, Vice President, and the 11 director positions.
Results are Released: February 17, 2023
The results are in! Find out who sits on our new Board of Directors. Results of the election will be shared on vote.wusa.ca
How can I run for the WUSA Elections?
All current Waterloo undergrads are eligible to run for:
President

Vice President

Director position

Seat on Waterloo's Senate

Faculty specific seat on Waterloo's Senate
Want to learn more about WUSA governance roles and if being a student representative is right for you? Visit WUSA Student Bodies Board of Directors Page for more details.
Have specific questions about running for a WUSA Board position? Email exec@wusa.ca for more info and to chat with one of our current Execs directly.
We hope to see you participating in the WUSA elections! 📢 Cast your vote to have your voice heard 📢