Published: Wednesday, January 4, 2023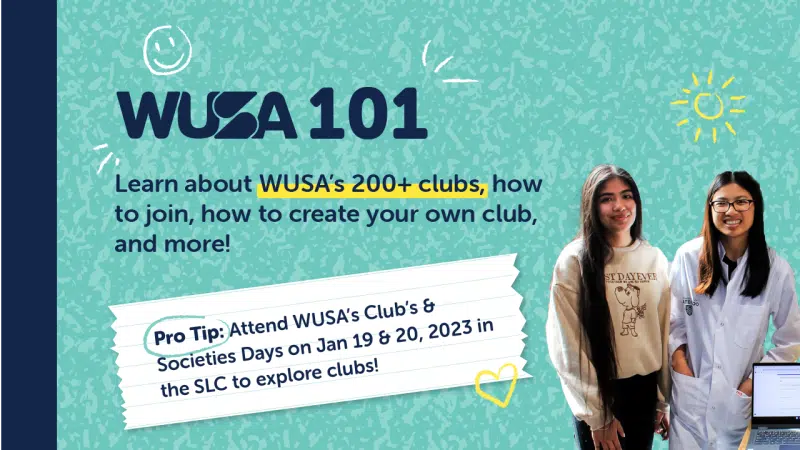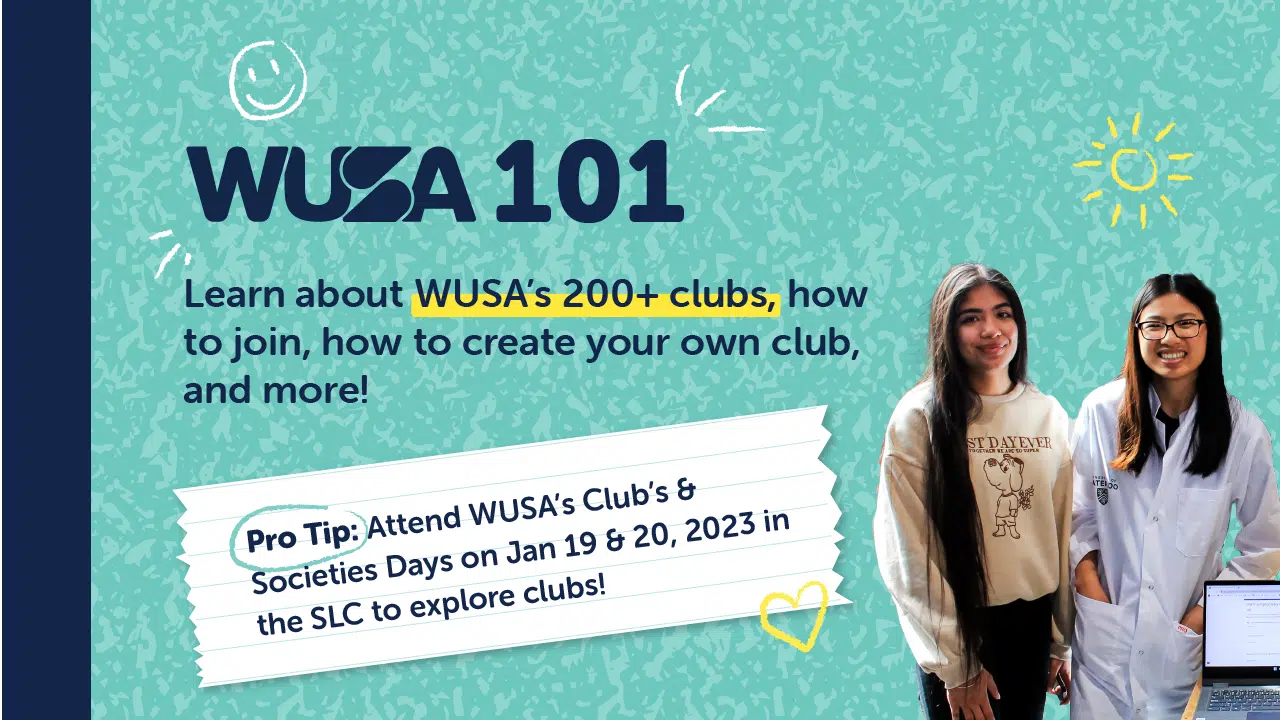 WUSA 101 is back! We hope you had a festive holiday because class is officially back in session. Today's WUSA lesson is about clubs!   
WUSA clubs organize and facilitate hundreds of events and meetups every term, providing plenty of extra-curricular opportunities for waterloo students. With WUSA's 200+ clubs, you're sure to find one that provides a community, new friends, and a fun break from schoolwork. If not, you can start your own club with WUSA's many resources and staff to help support your club.   
Where to find a club  
Click here to search active clubs: https://clubs.wusa.ca/club_listings  
The types of clubs include:  
Academic 

 

Business 

 

Charity 

 

Creative 

 

Cultural 

 

Environment 

 

Games 

Health 

 

Media 

 

Politics 

 

Religion 

 

And more! 

 
Benefits of joining a club  
Make new friends who share your interests 

 

Find your community 

 

Become more involved in the Waterloo community 

 

Creates balance between academic life and extra-curricular activities 

 

Clubs are a great way to connect with peers and expand your interests 

 

Build valuable skills as an exec or president of a club 

 
 How to join a club  
As a member  
To join a club to participate in club activities, reach out to the club via email or social media to ask about membership. 
As an exec or president  
When joining a club, you can join as a member, an exec, or as a president of a club. Clubs generally hire for these positions once every semester. Clubs will announce on their social media accounts when they are hiring so you can fill out an application. 
How to start a club  
Starting a club is a great way to get involved with clubs on campus and fill gaps in the club's community. Here is how you get started:  
Get in touch with the

Clubs Manager

to discuss your idea 

 

Review the Clubs Manual 

 

Create your club's constitution by using the online template 

 

Apply! 

 
Some basic criteria:  
All clubs MUST be inclusive. Read our statement (posted July 3) to learn about which actions are not tolerated within clubs 

 

All clubs require a minimum of 15 members 

 

67% of club membership must be current Uwaterloo students (graduate/ undergraduate) 

 

Execs & presidents must be current Uwaterloo students 

 
Do you want to learn more about what clubs are available OR showcase your club to prospective members?  
Clubs & Societies days will be taking place in person, throughout the SLC (Student Life Center) on Jan 19 & 20, 2023. It's a great opportunity to find a club to join, inquire about specific clubs & club positions, showcase your club to prospective members, and connect with other clubs! 
If your club wants to sign up, signups for club booths will start in early Jan 2023 here: https://wusa.ca/clubs/clubs-and-societies-days-registration/  
Start time each day: 11:00 AM  
Click here to search active clubs: https://clubs.wusa.ca/club_listings  
How will WUSA support my club?  
For over 50 years WUSA has connected students with opportunities outside the classroom to meet like-minded people. WUSA supports clubs dedicated to every interest and activity under the sun, ranging from hobbies, studies, charities, social movements, religions and more!   
We guarantee a smooth experience when creating or managing your club, with a plethora of benefits and aid along the way:  
Your Clubs Community Centre is exclusively for clubs that need a space to host meetings and events

 

WUSA's marketing and communications department provides you with free graphic design and marketing support

 

IT department sets you up with Office 365 access so your emails and documents will be secure

 

WUSA works with the university to ensure you can book a wide selection of rooms on campus

 

Access to the university's audio/video program

 

WUSA works with the Region of Waterloo to allow food at your events

 

WUSA reviews all club activity to ensure coverage from our insurance plan

 

Each term, WUSA reimburses each club up to $75 to put towards their club's activities

 

Free lockers allow you to build up resources

 

We make sure you aren't slowed down by paperwork

 
Clubs Support Team: 
Your Clubs Support Team is a group of 12 undergraduate volunteers who dedicate their spare time to make everything possible

 

They are available in person or on Facebook messenger to help with all aspects of running your club, from event forms to best practices to food regulations and club policies.  

 
How do I find out about specific club events?  
There are several different ways that you can find out about events that clubs host:  
By following the club on their social media pages 

 

Following WUSA clubs on Instagram (@wusaclubs) and watching the weekly, Monday Instagram stories 

 

Following WUSA clubs' Facebook page and checking out the "events" section as well as the weekly posts 

 
How can I get my club recognized for its hard work?  
Has your club or an individual of your club contributed meaningful and hard work? Nominate them for the WUSA Awards! At the end of the term, seven awards will be given to the most deserving candidates, either a club or a member, who were active in the past year.   
Clubs or individuals must be nominated to be in the running for an award. Clubs or individuals can either nominate themselves or other clubs or individuals. The final decision will be taken by the internal administration committee (IAC). To nominate a person or a group you think deserves this award, read through WUSA Awards.  
Do you have specific club-related questions?  
Contact the Clubs Manager at clubs.manager@wusa.ca 
Do you want to create your own club, inquire about balancing your club's account, or need more information?  
Visit https://wusa.ca/clubs/ for more details.  
We hope to see you at the upcoming clubs fair and integrating into the UW community!