WUSA 101: High Priorities from the Annual Plan
Published: Thursday, November 18, 2021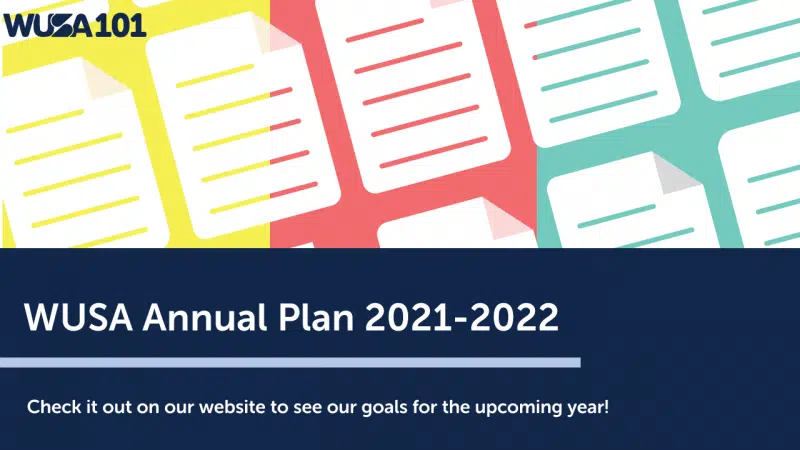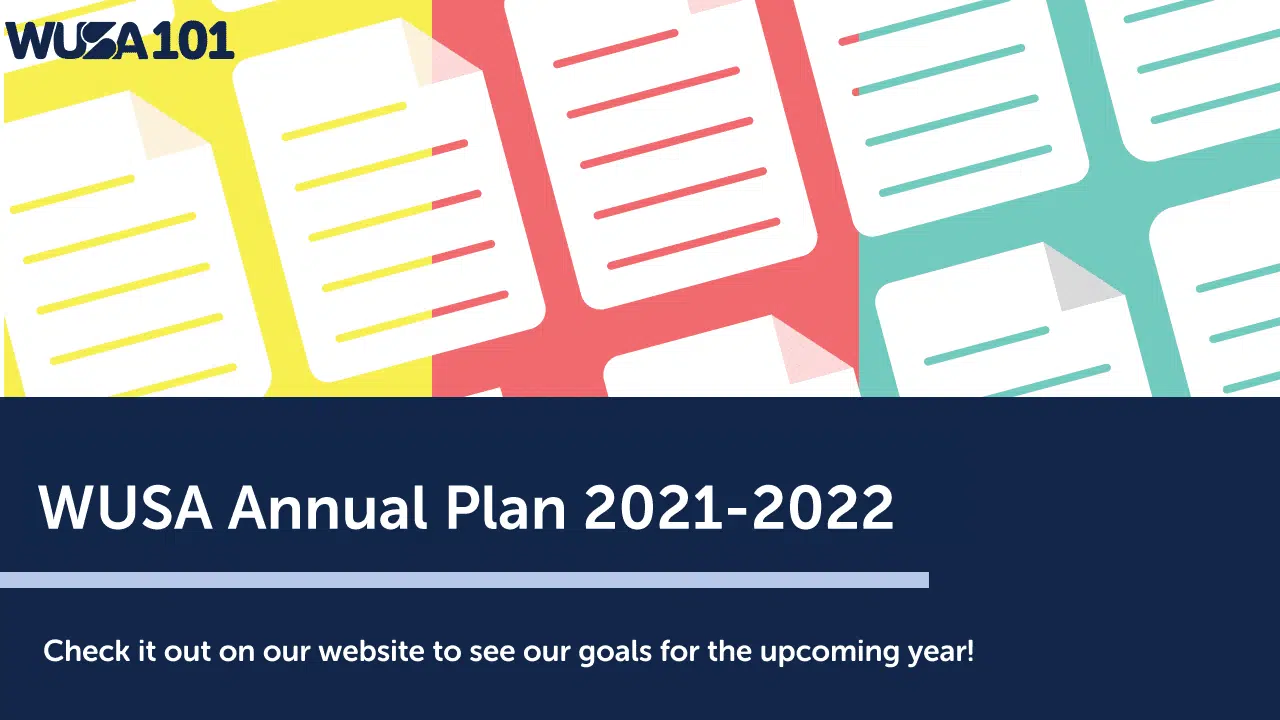 With WUSA advocating for a better Waterloo student experience virtually for a second year, the Annual Plan for 2021/2022 reflects undergraduate students' current needs. Whether it is advocating for clear communications on a safe and accessible return to campus or student involvement in the redevelopment of PD courses, here we outline WUSA Executive Team's high priority goals for 2021/2022 as outlined in the Annual Plan.
The Annual Plan is organized into six thematic areas.
Equitable Access
Effective External Advocacy
Supporting Student Communities
Affordable, Accountable & High-Quality Education
Responsible Corporate Governance
Student Safety & Wellness
Goals are either self-contained, have specific deliverables, or annual checkpoints for multi-year projects. Today, we'll focus on some of the tasks that are listed as 'high priority' within each of the thematic areas:
Equitable Access
We have created targeted asks of the University and the Province about concerns found in the 2021 Accessibility Commission's Report, regarding access & disability supports on campus. The inaugural Committee on Access and Disability has submitted a list of recommendations to provincial leaders and has developed a document outlining how the University can ensure that the accessibility gains students saw from virtual learning are not lost when students return to campus.
Another high priority includes advocating for clear, timely communications so students can plan ahead, reducing uncertainty in returning to campus. WUSA has sent a Return to Campus Letter to UWaterloo Administration which has compiled all your questions, concerns, and feedback in the form of recommendations and a list of issues we are hopeful will be addressed before the start of the winter semester. Collaboration between WUSA and the University will be ongoing as we work towards a winter term that suits the voiced concerns of the undergraduate students of UWaterloo.
Supporting Student Communities
The Student Lounge Plan (previously The Bomber) will be presented to UW Buildings & Properties Committee for approval and WUSA will begin work on the project.
Student Safety & Wellness
WUSA has worked with Grand River Transit to return UPass to all students in Waterloo Region this Fall term.
Alongside the report on Trans & Racialized Student Experiences with Campus Wellness, we have been working with Campus Wellness to push for improved student experiences and access to care. WUSA has been clearly communicating and following up on avenues including: increased number and accessibility of practitioners able to and capable of providing trans-specific healthcare, development and mandatory delivery of training regarding trans, gender-diverse, and racialized students, and responses to student mental health crises.
We have also been collaborating with working groups of the President's Anti-Racism Taskforce (PART), including the PART Health and Mental Health Working Group, as well as making sure to actively support undergraduate student members of PART and its working groups.
Affordable, Accountable & High-Quality Education
WUSA is working to ensure students are directly involved in the creation, review, and re-development of Professional Development (PD) courses. This has resulted in the creation of the PD Working Group, who are currently working with the new PD author to revise PD12 to ensure students find more value out of the course.
Also, the team is advocating for creating an independent, University-Wide ombudsperson to promote procedural fairness and transparency on campus.
Effective External Advocacy
A high priority task under this goal is implementing a stakeholder management system to avoid information loss from an exec, staff, volunteer turn over. This is being led by VP Education, Stephanie Ye-Mowe
Responsible Corporate Governance
Last, but not least, WUSA will also investigate methods to promote student engagement within the organization. This work is being led by President Benjamin Easton, with the support of the Board of Directors and Students' Council.
To help with this, we thought a governance review was necessary. Both the 2020-2025 Strategic & Long-Range Plan and 2021-2022 Annual Plan highlight concerns around WUSA governance, making a governance review a priority. Since the start of the fall term, we have worked with a pair of consultants with expertise in student association governance to help us address these issues. They have met with student councilors, directors, executives, full-time staff, and at-large students to understand how WUSA is governed today.
On Thursday, November 11th, the Board accepted the consultants' final report and its primary recommendation that WUSA merge Students' Council and the Board of Directors into a single governing body, elected at-large from the membership. Check out this article for a deeper understanding of the WUSA governance review.
Check out the full 2021 – 2022 Annual Plan and the Long Range Plan 2020 – 2025, to find out more about how WUSA governs.
To learn more about whose representing you, check out your elected Executives' Bios.