Food? Transportation? Supports? We've got you covered
Published: Monday, October 2, 2023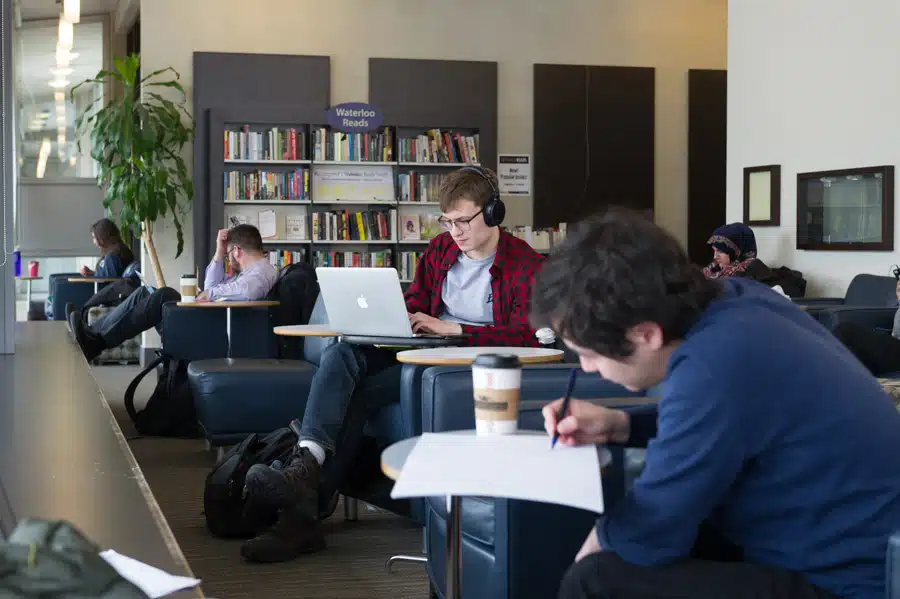 WUSA has always been an association designed to help students, and a lot of what we do is only made possible by the students who volunteer their time to create a better community and campus.
This article focuses on the many services and supports that our organization has for you to ensure your time with us at the University can be focused on your wellbeing and academic success.
If you're looking for a bite to eat any time of the day (even midnight!), Flock Stop's here for you. It's a 24/7 convenience store located right in SLC run by students to ensure you get the best prices at any time, during any day.
If you're a Pharmacy student studying in the University of Waterloo's Pharmacy Building, you can also grab a fresh cup of coffee or a bite to eat at The Caffeine Dispensary.
WUSA also has a transportation option for students called the Fed Bus which has routes to Toronto, Hamilton, Burlington and London. It's an affordable and convenient option for students to travel- just remember to buy your ticket and keep your WatCard with you.
Next up are the student-run services which make up a big and important part of WUSA. There are many student run services such as-
Bike Centre
If you are someone who owns a bike or wants to own a bike then Bike Centre is the place to go. You can rent a bike and buy select parts here at affordable prices. You can make most quick repairs on your own with our collection of tools. It is located at SLC, Room no. 0101 so do check it out!
Food Support Service 
This is a confidential service dedicated to students facing food insecurity by providing them with food hampers. You can ask to meet someone by going to the Turnkey Desk located at Student life Centre or you can reach out to them through their Instagram or email which can be found on the WUSA services website.
Glow Centre 
This student led service is one of the oldest services and is for the 2SLGBTQIA+ community. They have various social events, peer support etc. for example last term they had events like Pride picnic where there were games and free ice-cream. They also took the students to the Pride Parade that happened in June. All of this is for the community so that everyone feels welcome.
International & Canadian Student Network
They aim to provide a smooth transition for all international, local and exchange students and make them feel welcome. They have some fun events throughout the term for students to take part in which gives them a chance to meet new people, make friends and just have fun!
MATES
One of the most important things for everyone should be taking care of our mental health and a lot of times as students, we face a lot of social and academic challenges. MATES is there to help all students as they have trained support volunteers that can help guide you properly. This is a confidential service too. They are located at SLC, Room no. 3102.
Off Campus Community
This is a service for all students living off-campus. They organize events for students to stay connected and adjust to their surroundings.
RAISE
It is a service created to address the issue of Racism and Xenophobia. Throughout the term they have tons of events that help in community building for example, last term they had events like karaoke night and movie night which gave students a chance to connect. They also had their Raise XChanges Conference this term, which was filled with amazing speakers, engaging workshops and talented BIPOC artists. Apart from that, they provide peer to peer support and educate everyone about these issues.
Women's Centre
This is a service that provides support to all women and trans folks. They have various events to educate everyone and to help women connect with each other. They also provide students with sexual health resources such as pads, condoms and pregnancy tests.
Turnkey Desk


This is the place to go if you need directions, want to book a study room, have a question about the SLC or campus, want to borrow games, and much more. They are open 24/7 to help students with all kinds of questions. They have even

opened a new location in DC where you can buy bus tickets, movie tickets etc. 
WUSA's got you covered- whether you're looking for an affordable meal on campus or transportation options to get you around town or home for the weekend.
Siddhant Chhughani
Communications Assistant