Two-Way-All-Day-GO Train Service: Why Students Stand to Benefit the Most
Published: Saturday, May 29, 2021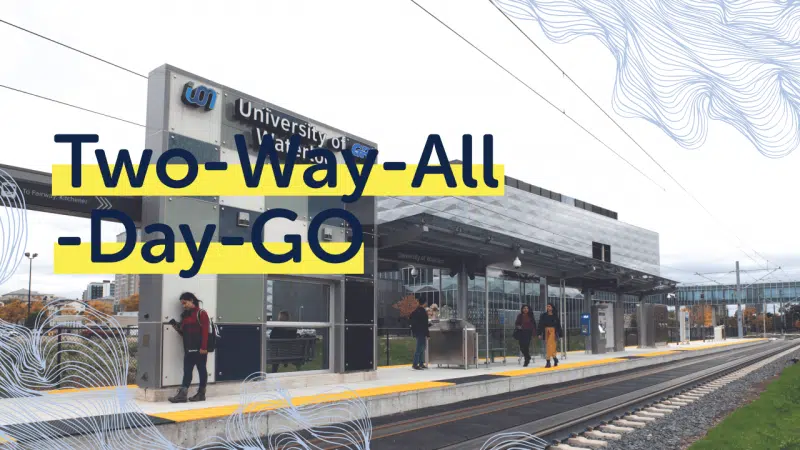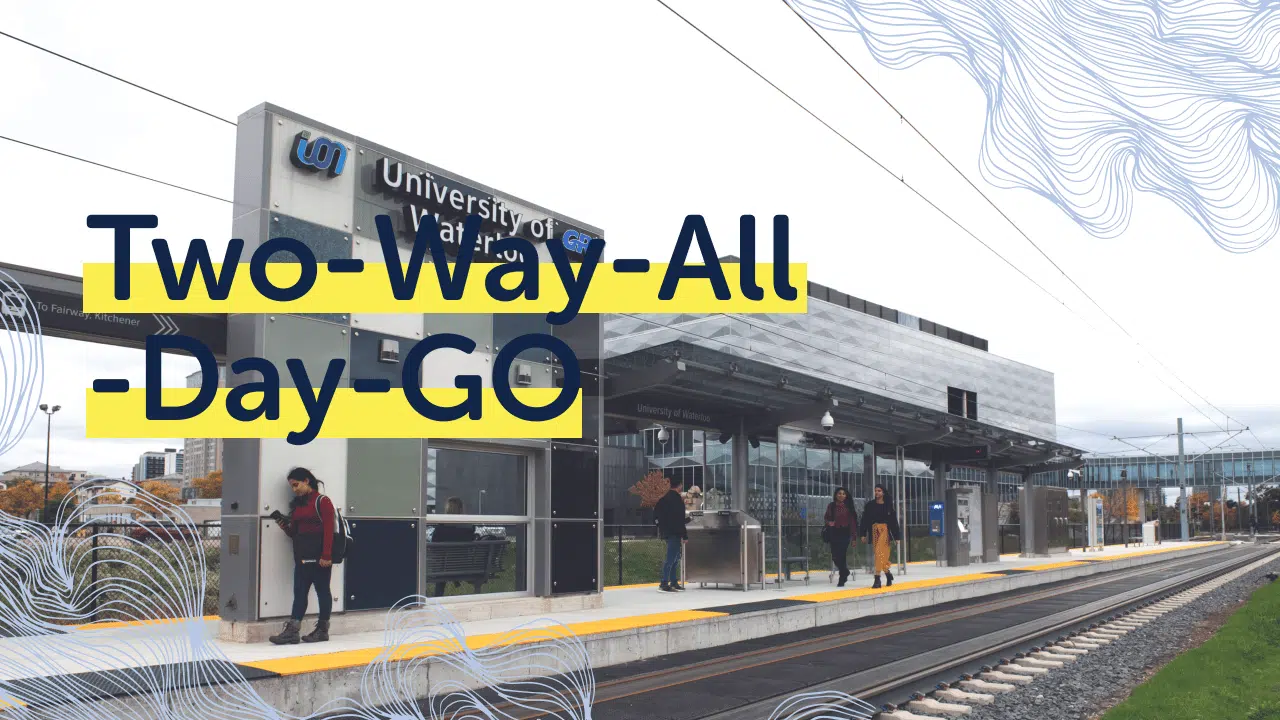 For most students in Waterloo that don't drive, getting to Toronto can often be a chaotic experience. While the GO Bus offers frequent service along the Highway 401 corridor, Toronto-bound travellers must make an inconvenient stop at Square One in Mississauga and transfer, which if not properly timed, can be missed given that delays are not uncommon. The alternative for students unable or unwilling to endure the gruelling commute is to secure a ride through a rideshare. Rideshares are often organized over Facebook, with students seeking rides from drivers for a small fee. This method has been successful in meeting student needs by proving to be relatively safe, convenient, and fast, but there are also concerns when it comes to safety and reliability. For example, the unregulated nature of ridesharing means that there is always a risk of safety being infringed on and there are no mechanisms to protect from or respond to safety concerns. Additionally, scheduling conflicts are rife, with accounts of students missing important appointments when a rideshare was cancelled last minute. Students have also been scammed when asked to pay ahead of time for rides that never showed up. Despite the risks, ridesharing thrives during the school year and is beneficial to our community as a reliable alternative has not been implemented.
Efficient and reliable transit between the Waterloo Region and Toronto –the Toronto-Waterloo Corridor ("Corridor") – is a desperately needed service for both students and local residents, a need that has been recognized by a variety of stakeholders. Based on a recent poll commissioned by "Connect the Corridor", 80 percent of respondents support fast, frequent two-way-all-day service across the Corridor and 52 percent of current Ontario commuters say they would use this service to get to work or school. In November 2019, the Board of Metrolinx approved a recommendation for the expansion of the Kitchener GO trainline to facilitate Two-Way-All-Day-GO train service between Toronto and Kitchener, costing $1 billion.1 The expansion would include:
Two trains per hour running both ways during weekday peak periods, morning and afternoon, between Kitchener and Toronto;
One train per hour running both ways during weekday off-peak periods; and
One train every two hours running both ways on weekends.
Estimated travel time between Kitchener GO station and Toronto Union station would be 90 minutes, down from the present 111 minutes.
This decision was a culmination of years of intense advocacy by top business leaders in the Corridor, as well local municipalities and institutions of higher learning (the University of Waterloo is a research partner under "Connect the Corridor," an advocacy group dedicated to seeing this project through). In the last year, WUSA has been front and centre in bringing the student perspective to Connect the Corridor's advocacy efforts, by engaging with the provincial government and rallying other colleges and universities behind this project.
The Student Perspective
Students can add the needed support for this project through our presence and strength: The Corridor is home to 16 post-secondary institutions, representing roughly 423,000 students. In addition to the enormous student presence, the Corridor boasts Canada's largest engineering school, two of Canada's top three computer science programs, a half-dozen business schools (including three of the top five in Canada) and the world's largest co-operative education program (co-op).
As WUSA, we offered an expanded perspective on why this project is needed: For students, two-way-all-day GO means a safe, fast and convenient way to travel within the Corridor. At the University of Waterloo where students often get co-op placements in downtown Toronto, this service could potentially spare students high rental costs and moving hassles, as they could work in downtown Toronto and continue living in Waterloo, a significantly more affordable city. This creates a large and exceptional talent pool whose potential can only be fully realised with fast, secure, and efficient transit within the Corridor.
The lack of two-way-all-day fast transit connections between the Waterloo Region and Toronto is the single biggest obstacle in attracting and retaining talent along the Corridor. While companies like Google, Blackberry, and OpenText run daily shuttle service for their employees between Toronto and Waterloo,3 this is not a feasible solution for many businesses, and certainly not an effective solution for students. Further, studies suggest that corridor congestion (gridlock on the 401), costs Canadian businesses and consumers $500-$650 million per year in higher prices for goods, and up to $20 billion in passenger travel time savings, road maintenance cost avoidance, and reduced congestion.4
Alternatively, the implementation of two-way-all-day GO service along the corridor has many financial benefits. Planners estimate that local ridership would increase to 3000 daily passengers by 2030 up from the present 282 daily passengers.5 According to a study conducted by McKinsey & Company, linking the Corridor through fast, frequent, rail service has the potential to deliver a $50 billion increase in direct equity value, $17.5 billion in direct annual GDP, and more than 170,000 high-quality jobs by 2025 – jobs that can be filled by new graduates within the Corridor, creating greater opportunities for both students and businesses. In addition, trains are a more environmentally-friendly mode of transportation compared to cars and buses – fewer cars on the 401 means lower CO2 emissions.
Construction Set to Begin Fall 2021
All levels of government recognise the importance of this project, which had long been stalled by political partisanship. The provincial government has demonstrated enthusiasm for the project, citing delays in funding from the federal government as the reason why the project has not taken off, while federal authorities insist that the provincial government is to blame for delays, as infrastructure funding has already been allocated.6
Amid the politics, WUSA played a pivotal role in pushing this project forward. We have consistently voiced our support for two-way-all-day GO during pre-budget consultations, both at the provincial and federal level. Our efforts have borne fruit. In a recent announcement, the provincial government and Metrolinx released a preliminary design business case for two-way-all-day GO that outlines the plan for expanding the Kitchener line and completing the project by 2025. The government also made funding provisions for two-way-all-day GO in the 2021 provincial budget7. According to the budget statement, procurement is already underway, and construction is set to begin in Fall 2021
WUSA will continue to lend our support and contribute student experiences, needs, and perspectives to "Connect the Corridor" and its goal to realise two-way-all-day GO train service. After all, it sure beats taking the bus.