The National Day of Remembrance and Action on Violence Against Women
Published: Monday, December 6, 2021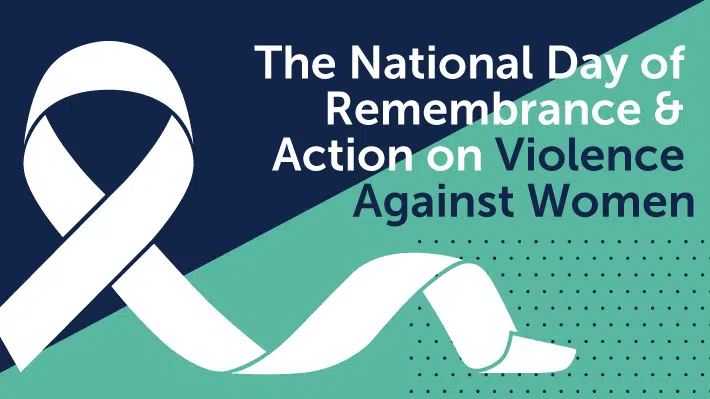 Trigger Warning: This article includes a discussion of gender-based violence.
On December 6th, we observe The National Day of Remembrance and Action on Violence Against Women to remember the events and lives lost at École Polytechnique over 30 years ago. Fourteen women were brutally murdered and thirteen wounded after a man opened fire in a mechanical engineering classroom at École Polytechnique in Montreal. We wish to remember these women and reaffirm our commitment to fight against gender-based violence on this day.
Today, we remember
Geneviève Bergeron
Hélène Colgan
Nathalie Croteau
Barbara Daigneault
Anne-Marie Edward
Maud Haviernick
Maryse Laganière
Maryse Leclair
Anne-Marie Lemay
Sonia Pelletier
Michèle Richard
Annie St-Arneault
Annie Turcotte
Barbara Klucznik-Widajewicz
The loss of these women's lives was driven by misogyny and violent antifeminism. The murderer's suicide note indicated their intent to murder 19 "radical feminists". The shock of the events of December 6, now known as The National Day of Remembrance and Action on Violence Against Women or White Ribbon Day, induced stronger gun enforcement laws and raised a larger conversation about violence against women.
While such horrendous events may appear unthinkable in this day and age, there is still rampant and persistent antifeminist culture making itself more apparent through toxic online communities and on social media. An alarming increase in misogyny and antifeminism has borne its ugly face through online platforms such as TikTok and Twitter. It's important that we continue to combat misogyny in Canada and elsewhere so that no such tragedy could occur again. We must work together to educate our friends and family on gender-based violence and support those in need to ensure that we work together toward a better Canada.
If you or anyone you know has experienced or witnessed gender-based violence and needs support, we encourage you to reach out to any of the resources below.
December 6 Ceremony & Memorial
The University of Waterloo's online ceremony to recognize the National Day of Remembrance and Action on Violence Against Women and honour the lives of the 14 young women killed in 1989 will begin at 10:30 AM today, Dec. 6.
Speakers include Vivek Goel, the University's president and vice-chancellor, Jean Becker, the University's associate vice-president, indigenous relations, Mary Wells, dean of Waterloo Engineering, Bardish Chagger, member of parliament for Waterloo, Anita Davis, CFUW K-W president and Catherine Fife, member of provincial parliament for Waterloo. Registration is required.
On-campus Resources
If you need a professional to talk to, you can reach out to Counselling Services
EmpowerMe*, is a toll-free option for those in Canada and the US: 1-833-628-5589
You can also get peer support from the volunteers at The Women's Centre, Glow Centre, RAISE, or MATES at drop-in hours or by appointment.
An option for Indigenous students: Supports at WISC. Please email WISC@uwaterloo.ca to request Metti Tessema for counselling for Indigenous student support
*Must be enrolled in the WUSA or GSA Health Plan
On-campus Resources
The Region of Waterloo has several off-campus support lines, including SASCWR, Women's Crisis Services, and more: Waterloo Community Resources
The emergency departments at St. Mary's Hospital and Cambridge Memorial Hospital are open 24/7. These emergency departments have a nurses and social workers from the Waterloo Region Sexual Assault/Domestic Violence Treatment Centre
The Family Violence Project can connect you to agencies that can help support you in making steps towards safety and can support those who are unsure of leaving. Call 519-743-6333.
A community coordinated committee who facilitates a coordinated approach to domestic violence within the Waterloo region. DART of Waterloo Region
An option for Francophones Fem'aide: call 1-877-336-2433
An option for Indigenous peoples Hope for Wellness Help Line : call 1-855-242-3310*
CMHA Adult Counselling and Treatment of Waterloo and Wellington region: 1-844-437-3247
*Counselling available in English, French, Cree, Ojibway, and Inuktitut