Student Addresses Mask Accessibility on Campus
Published: Thursday, January 7, 2021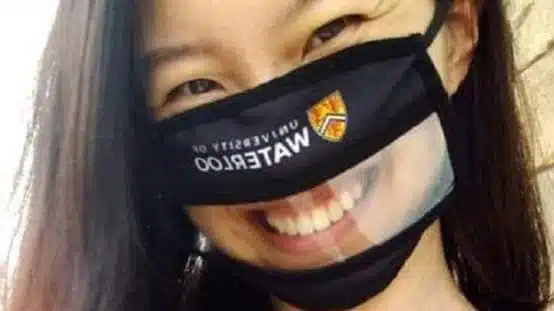 Hi Warriors!
My name is Yang Yang and I'm a Social Development Studies student.
I'm ecstatic to share that the W Store now offers clear face masks that use a transparent panel to remove accessibility barriers created when other face masks cover the wearer's lips.
Around February, I noticed this was an issue for individuals who are Deaf or Hard of Hearing. For some, reading lips is a critical part of communication and social participation. As we shifted to social-distancing mode, people who have hearing disabilities struggled with losing that tool for understanding others.
In July, I emailed the University's Safety Office, AccessAbility Services, and W Store to suggest that the University provide its employees with clear face masks to improve accessibility for people who read lips. My email also mentioned that this is beneficial for all members of the community since covering half the face has limited people's non-verbal communication. Using a clear face mask enables staff and students to see each other's smiles, which is one thing this pandemic has taken away.
I received various responses thanking me for the suggestion and saying their office would look into this as an option.
On November 19th, the W Store announced that they would start selling clear window face masks. I am happy to see the University take the accessibility concerns of students seriously.
Do you have any concerns about accessibility on campus? Fill out our survey to voice your concerns with our Student Accessibility Commissioner, Vicky Ikeno! Or email accessibility@wusa.ca to set-up a time to meet with Vicky to share your experience.
To purchase a clear window face mask, check out the W Store website.