Published: Friday, September 24, 2021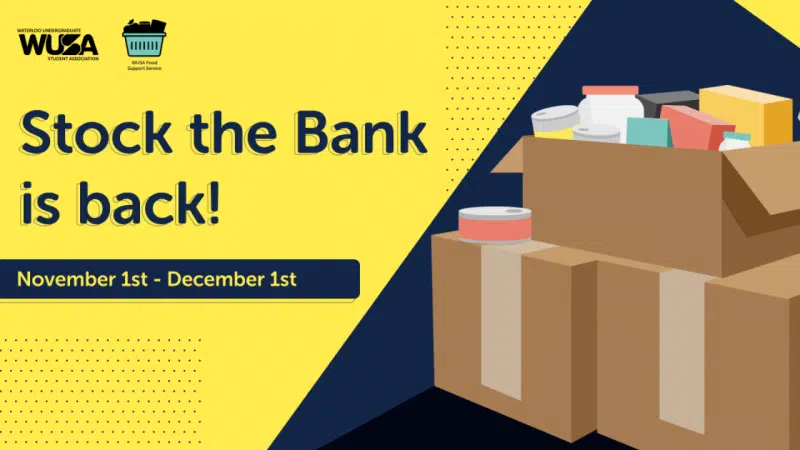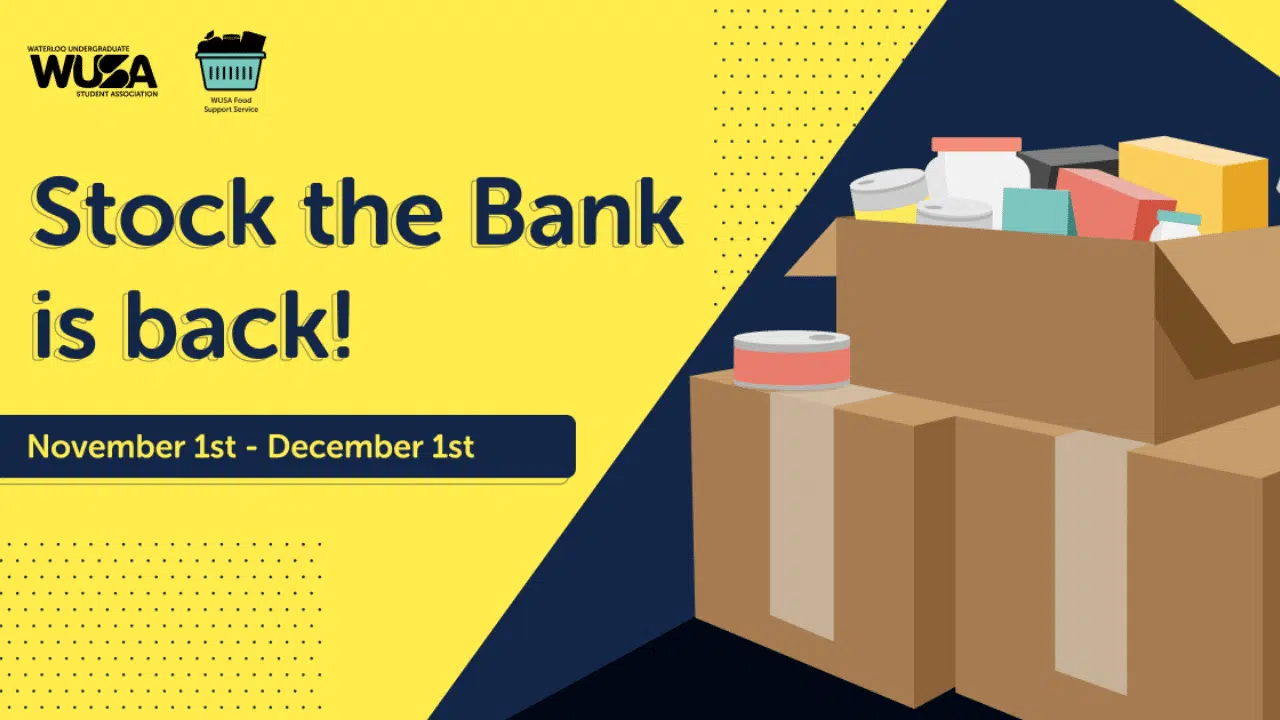 We're Back!
WUSA Food Support Service has started planning for its third annual Fall Stock the Bank Challenge! It's time to take back campus and face off to see who the champion will be. Click here to join our already confirmed teams like the W Store, the Student Success Office, and WUSA in our first on-campus event!
What is Stock the Bank?
Stock the Bank is a month-long challenge in November where self-formed teams compete against one another in an effort to raise the most amount of non-perishable food items or money for WUSA's Food Support Service. These items will go directly to supporting the users who access our service for food and essentials.
Between 2020 and the end of Spring term 2021, our service has distributed over 500 food hampers to those in need on campus. Post-secondary students are one of the fastest growing groups of food bank users across Ontario. With your help, we hope that our students will always find welcome and helpful support at the University of Waterloo.
Teams can be as large as an entire faculty, a small group of friends, or even a general office or store. At the end of the challenge, the winners will receive a sharable prize among team members and our coveted Golden Can Award in recognition of their efforts. We are excited to announce that we have begun reaching out to Waterloo's many amazing small businesses to inquire about their interest in providing our event with giveaway items.
The collection campaign will run from November 1st – December 1st and teams will be able to organize a drop off their items directly to our office, or arrange a pickup with our volunteers. Competing in this challenge means thinking of creative ways to gather the most non-perishable food items or raise the most money for WUSA Food Support Service.
Our "Need List" determines which items will be worth the most points and will be released closer to our event date. On top of bragging rights, the top collection team has the opportunity to win a shareable gift card and receive the prestigious, never-seen-before Golden Can! All participating departments will receive a thank you at the end of the challenge.
Introducing a new and improved Stock the Bank:
In order to ensure that everyone is able to participate, we will be offering each group their own donation box with their team name. This box will be delivered to the location of your choice (must be on-campus and inside a building). The box will also include instructions/information about why we are collecting, our most needed items, and how to win!
After Stock the Bank ends, we will organize a date where we can pick up your Stock the Bank box, and your donations! With some uncertainty in what returning to campus will look like, we are committed to working with Stock the Bank teams to ensure their safety.
How to Participate:
If you would like to confirm a preliminary interest in participating in Food Support Service's Stock the Bank Challenge, please contact us via email at foodsupport@wusa.ca or sign up here with your team. We ask that all those who are interested reach out so we can secure lots of support from our Food Support Service team for this upcoming event.
Don't have team but still want to help? Partner up with your favourite UW team to help them win against their rivals! There's always a way to participate with Stock the Bank!