Spring Term Recap with the WUSA Sustainability Project (WSP)
Published: Thursday, July 28, 2022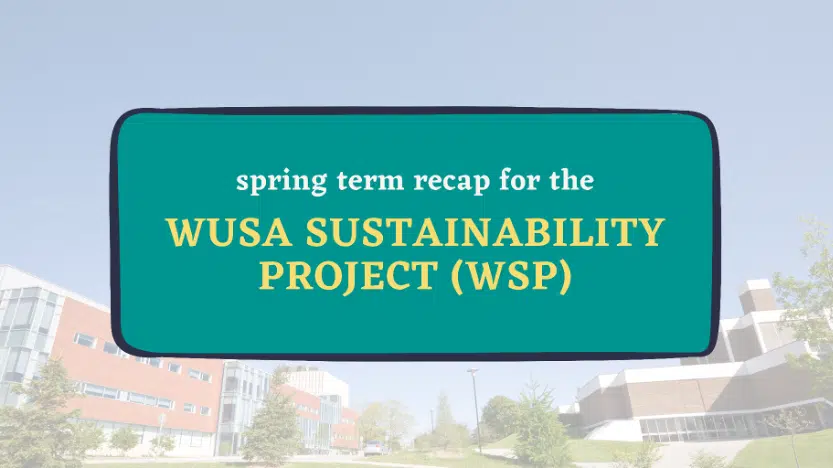 And just like that, the Spring 2022 term and my final term as the WUSA Sustainability Commissioner has come to a close. This is a bittersweet time. It has been an amazing experience to be involved on campus this term; this time last year, I was just being offered the position amidst a lot of uncertainty and transition. It seemed like we would be online for the foreseeable future, and that I would graduate virtually. Little did I know that the excitement and eagerness of the student body to engage in campus sustainability would return stronger than ever, with years of pent up energy ready to be put towards our campus sustainability initiatives.
With this being my final term of three terms as the Commissioner, I want to highlight some of the milestones that WSP achieved over the year. As I reflected on my terms and the activities that took place to write this post, feelings of pride, amazement and motivation resurfaced. There are so many compassionate, driven people (staff, students, and faculty) at the University of Waterloo that are determined to make a positive impact, both on campus and in broader society. I am confident that our world is in good hands with these future changemakers.
In the spirit of WSP's values, I have highlighted the milestones using our three pillars: consolidation, communication, and consultation. 
Consolidation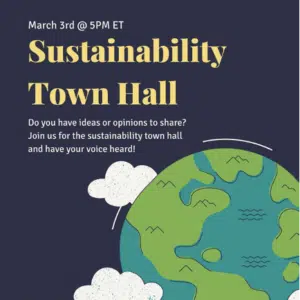 In the Winter 2022 term, WSP launched the Student Sustainability Committee! SSC is composed of passionate undergraduate students from each Faculty that are working together to promote sustainable change across the university. They also work independently with their Student Societies to incorporate sustainability considerations into their Faculty-level activities! 
From creating a sustainability survey for students, to hosting a virtual town hall, to working with their student societies on events, and encouraging sustainability in campus labs, this team has been working hard to foster sustainability in the University of Waterloo community. The survey was an important tool to understand student perspectives about sustainability on campus. We had responses from every Faculty, which really helped build a robust understanding of the values and priorities of our student body. Thank you to those who filled it out. Your voices are heard and will help direct our future initiatives at WSP! 
Communication
We rebranded our social media to align with WSP's new structure. We also started several weekly campaigns to showcase sustainability news and information in a clear, accessible way. These include Did You Know Tuesdays and Friday Features. Some of the things we showcased were campus initiatives like Campus Compost, the 2021 Sustainability Report, and global events like the release of the IPCC's Sixth Assessment Report and COP26. I had the opportunity to participate in various virtual events and campaigns, as well, from Instagram takeovers for WUSA, to presenting at the annual Eco Summit, to hosting an eco-anxiety workshop, and more.
WSP was heavily involved in the promotion of WUSA Thrift, which opened at the end of Winter term. This new service truly sets the University of Waterloo as a leader in sustainability innovation because we are one of the only (actually, the only one to my knowledge) university campuses with a student-run thrift store.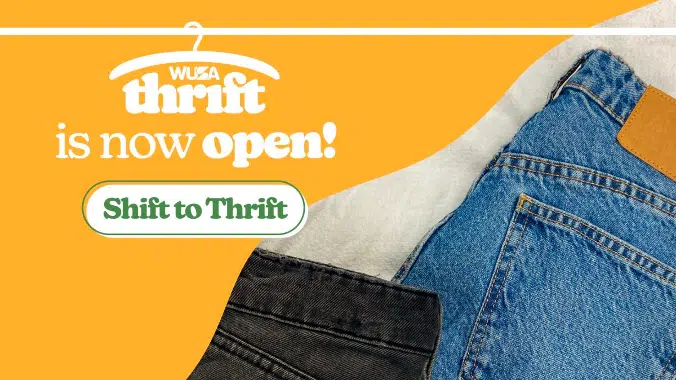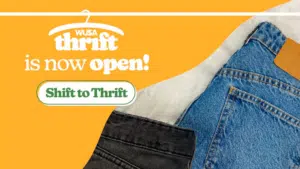 In Spring term, I had the opportunity to host a booth at the campus Bike Fair in June. This was a great opportunity for students to learn about WSP, what we offer, and how to get in touch. Many of the students I spoke to were unfamiliar with WSP before chatting with me. We had an uptick in followers on social media following the event, indicating successful engagement with those students! It was also just an enjoyable time to reconnect in-person with those I had been working with for months (even years) through a screen.
Consultation 
Over the three terms, I provided feedback for many campus projects, helping stakeholders on campus conduct more sustainable purchasing practices. From Orientation Week planning, to sustainability in residence, Fair Trade products on campus, reviewing funding proposals, distributing a campus-wide survey and so much more. I appreciated all of the opportunities I had to contribute to campus sustainability. I even had students from other universities and high schools reach out to me for feedback, advice, and support for their sustainability initiatives. This speaks to the impact that the University of Waterloo is having in the world – we are models for other campuses and communities around the country. 
What's next?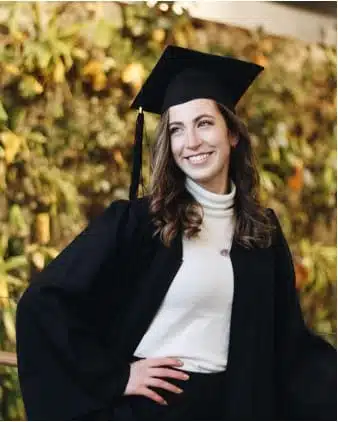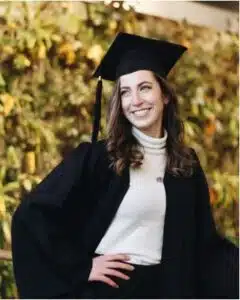 With a new academic year about to commence, there is a LOT to be excited about! A new Commissioner will be starting in September, with all new visions and ideas for how to make campus more sustainable. I can't wait to onboard this individual and hear their ideas for the role. As for myself, I will be heading off to start my Masters in Global Governance. I won't be too far, though – I will be at the Balsillie School of International Affairs, an affiliate of the University of Waterloo located conveniently in Uptown! In other words, you can expect to see me around the main campus all the time, sipping coffee at the ES Coffee Shop, studying in the Arts Quad, and ordering plant-based lunch to enjoy on the Grad House patio.
If you have specific ideas for projects that you think WSP should take on in September, let WSP know! Our inbox (wsp@wusa.ca) is always open and accepting of new ideas. You can also message us on Instagram (@wusasustainability) or tag us in your posts/stories to call attention to specific projects you are working on..
Thank you to everyone who engaged with WSP throughout my three terms. Your enthusiasm truly made my time here worth it. Every conversation I had left me feeling more empowered and confident in our changemaking abilities. I am honoured to have held this role at the University of Waterloo, where I see so much innovation and change-making happening. I can't wait to see what the next Sustainability Commissioner has in store for all of you, and what YOU have in store for our world.
Keep on changing the world, Warriors! 
Your 2022-23 Sustainability Commissioner,
Jenna Phillips (she/her)