Let's Celebrate! WUSA Birthday Box Contest
Published: Wednesday, April 27, 2022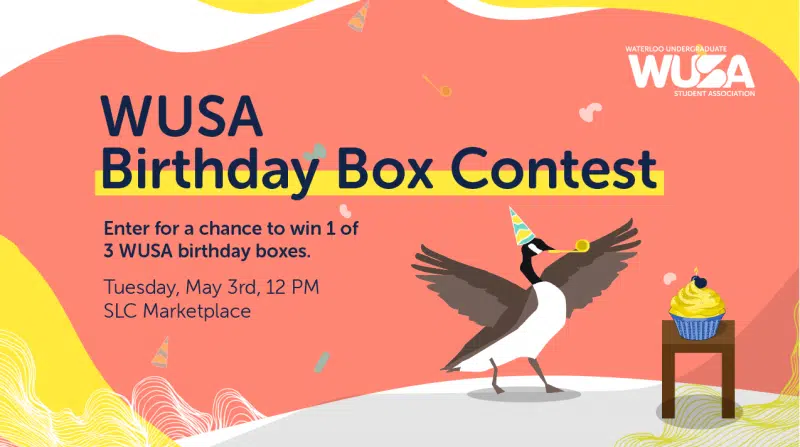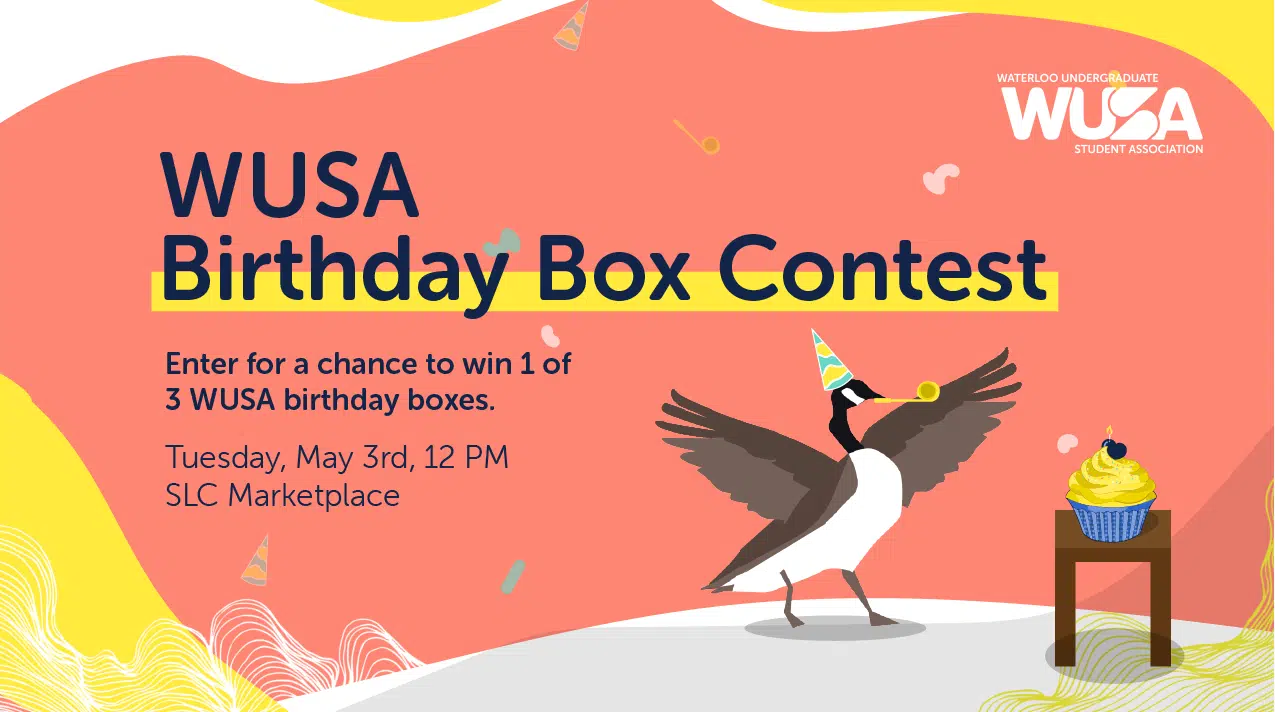 WUSA Birthday Booth: Tuesday, May 3, 2022, 12:00 PM EST – Tuesday, May 3, 2022, 1:00 PM EST
Today (April 27), on WUSA's birthday and officially the end of exams, we want to announce the WUSA Birthday Booth and WUSA Birthday Box Contest!
To celebrate the anniversary and return-to-campus for the Spring 2022 term, we are hosting a WUSA Birthday Booth and in-person WUSA Birthday Box contest where there are 3 chances to win!
Come out to our WUSA Birthday Booth on May 3 from 12:00 PM EST – 1:00 PM EST. At the booth, there will be 3 jars filled with candy. Scan the QR code beside the candy and then enter your guess as to how many candies are in each jar. The first person to correctly guess the number, or the first person to the closest guess, will win that candy jar and a WUSA Suprise Birthday Box!
1. How to Enter
No purchase required.
Follow the @yourWUSA IG account.
Attend the WUSA Birthday Booth on March 3 anytime between 12:00 PM EST – 1:00 PM EST.
Scan the QR Code at the booth beside the candies.
Fill out the form with details and your guesses and press submit.
If entrants attempt or are suspected of attempting to enter using robotic, automatic, programmed or any entry methods not authorized by these rules, it shall be deemed as tampering and will void said entries. Hate or hurtful speech, bullying, and/or harassment will result in a ban from the contest and potentially future contests held by the @yourWUSA social accounts.
2. Eligibility
The contest is open to all current University of Waterloo undergraduates.
3. Procedure for Awarding Prizes
On Wednesday May 4, 2022, the Communications Specialist will sort the form for the three winners from among all eligible entries. One (1) winner per jar. If an entrant guesses multiple jars correctly, they will win the jar based on winners of other jars. If multiple entrants guess multiple entires correctly, the jars will be distributed based on number and who entered first (I.e. first correct guess wins jar 1, second correct entry wins jar 2, etc.)
Winners will be notified that their entry was selected through their UWaterloo email account within 48 hours of submissions closing. A staff member will inform winners of how and when they can pick up their prize.
If a winner cannot be reached within 1 week following the first attempt of contact or declines the prize, the prize shall be forfeited and WUSA has the right, at its sole discretion, to select another winner by following the procedure as outlined above.
Official public announcement of the winners and their guesses will be on Friday, May 6.
Physical prizes will only be available for pick-up in the SLC from Monday, May 16 at 8:30 AM – Monday, May 30 at 4:00 PM EST.
4. Description of Prize(s)
Each winner will win:
Correctly guessed candy jar: Estimated value – $3-$15 depending on jar
WUSA Birthday Box Swag: Estimated value – $15
Gift card: $50
INEWs Coupon: Value indicated on coupon
5. General
5.1 Entries must be submitted via the official contest platform. Entries sent in other ways will not be accepted.
5.2 This Contest is not sponsored, endorsed or administered by, or associated with, any social media platform including, but not limited to Instagram and Twitter.
5.3 Odds of winning depend on the number of eligible entries. All entries that are incomplete, illegible, damaged, irregular, have been submitted through illicit means, using any robotic, automatic programmed method that artificially increases the odds of winning or do not conform to or satisfy any condition of the rules may be disqualified.
5.4 Hate speech, bullying, and/or harassment of any kind will not be tolerated and will result in disqualification from the contest and potentially all other contests associated with the @yourWUSA social accounts.
5.5 All personal information, such as name and contact information, is collected by WUSA solely for the purposes of administering this Contest and shall not be used for any other purpose without your express consent. By providing this information, you consent to it being used for the stated purposes.
5.6 By entering you consent for your account to be tagged on the winner announcement post on the @yourWUSA IG.
5.7 By entering, you agree to abide by the Contest rules.