January Board Meeting Recap
Published: Tuesday, February 21, 2023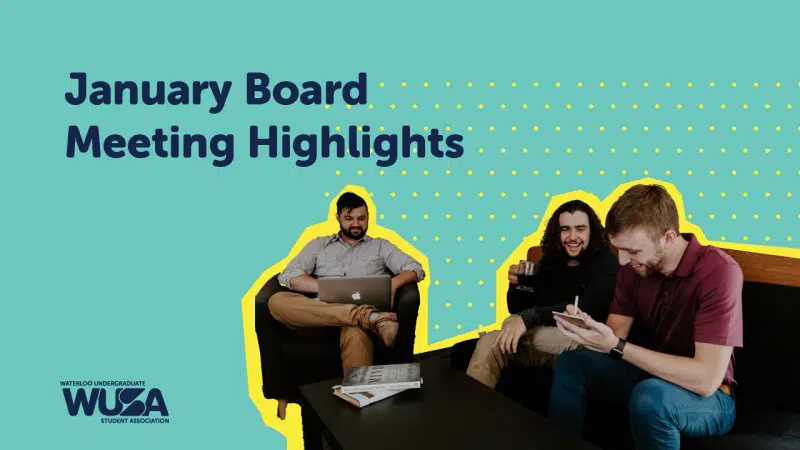 This past January, the Board of Directors discussed several key issues. The first and foremost issue discussed was on increasing access to information. The Board decided on sharing monthly updates through either an online newsletter or via social media platforms; that can be easily interpreted by the student audience. This article is the first of these updates! If you didn't get a chance to listen in on the January Board Meetings, here's what #yourWUSA Board of Directors discussed.  
The previous policy manual was discontinued; the Board received a draft for the new policy manual on the 12

th

January. The final version of which is expected to be approved by the end of February! 

 
The Board also finalized May 1

st

2023 as the date to discontinue the previous policy manual and implement the new policy manual,  which would allow the Board and staff enough time to develop new procedures, advocacy statements, and more. 

 

The date for the next WUSA General Meeting was also decided, and is set to be on Tuesday, March 21

st

in the Student Life Centre. 

 

WUSA had also encouraged students to submit their proposals for consideration before February 17

th

. 

 

The Board approved an increase in Officers' compensation and Directors' honorarium by CPI, which will take effect in the next governing year.   

 

 

The 2023 orientation fee budget was approved, and it was agreed that orientation fee will be increased based on CPI. 

 
Since the proposed policy manual would be collapsing a lot of committees, and considering the fact that the responsibilities of the Student Experience Advisory Committee (SEAC) coincide with work done by advocacy staff, Board approved the suspension of the SEAC while authorizing staff to set up its own internal committee that will essentially carry out the committee's mandate.

Board will continue to receive progress on the staff led committee through the president or executive director's monthly updates.  An initial meeting to bring together all relevant parties will be scheduled for March to share plans for the internal committee moving forward, and to discuss items related to accessibility and policy 42 – Prevention of and Response to Sexual Violence. 

 

 
We hope you enjoyed our January Board meeting re-cap! The WUSA events page will also be updated before and after these meetings happen – so check in again next month!