Glow Coming Out Week: Finding a Way Out of the Closet
Published: Monday, October 18, 2021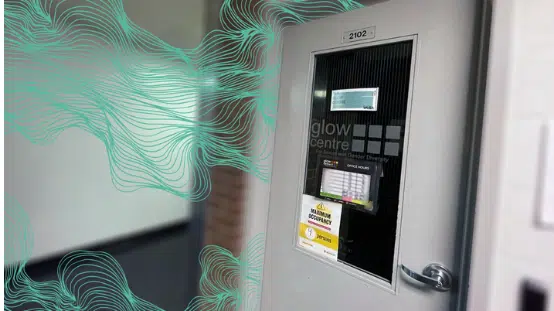 Finding a Way Out of the Closet
October is "LGBT History Month" and last week, October 11, was National Coming Out Day! National Coming Out Day is a day to celebrate sharing one's 2SLGBTQ+ identity with others. To recognize this day, the Glow Centre will be hosting Coming Out Week with a variety of fun events from October 18-22. National Coming Out Day can act as a catalyst that helps encourage some folks to make the first step in voicing their identity. This year Shawn Bennett, a WWE referee, seized the day and came out publicly as a gay man. Even Superman's son, Jon Kent, came out as bisexual last week! For many, there may be value in coming out because of the expectations of those around us. Coming out is saying that one doesn't conform to the traditional idea of being in a straight relationship or identifying as the gender assigned at birth. While this act of sharing one's identity may bring value for many, it is also important to acknowledge that coming out is a highly Westernized concept.
The societal expectations around gender and relationships that many of us may experience are simply that of Western culture. There are a variety of different cultures celebrated here in Canada and, therefore, a variety of different ways gender and sexuality are understood. In some cultures, coming out is not necessary because one's way of being is simply accepted without the grief associated with losing those traditional expectations. For example, Two-Spirit folks were revered members of their communities and disclosing their identity was a different process than what we practice today.
In addition to acknowledging the different cultures and their views on "coming out," it is important to make note of the folks who are not capable of disclosing their identity. Sometimes coming out can mean getting kicked out of your house or losing your job. As much as we may believe that protections exist for folks experiencing those situations, it is still frighteningly common. For that reason, many people may not feel safe or comfortable sharing their queer identity. Sometimes folks will only share it in certain spaces, so it's very important to check in and see who knows before potentially outing someone and creating a potentially dangerous situation.
As coming out is still a large part of our culture today, this is of course a day to celebrate it! There can be strength in coming out, particularly as it may lead to accessing better services and taking steps towards being more comfortable with yourself. Coming out can be nerve-wracking when you don't know how someone is going to respond, but try and see their thoughts on the 2SLGBTQ+ community beforehand. Remember, if you do want to come out, there's no timeline you must follow. You are not any less queer because you can't or don't feel ready to tell anyone. Being safe and comfortable are the two main priorities to keep in mind. To introduce the topic of 2SLGBTQ+ identities, it can be helpful to bring up an article of a case recently featured in the news or mention a hypothetical friend. Coming out can be fun as folks may even bake cakes and prepare special get-togethers for the occasion. There are also many puns that can be incorporated in this experience, from "I just can't sit straight" to "Pans aren't the only thing I love." This can be a more light-hearted way to make a potential stressful situation a little less intimidating.
If you or a friend are having challenges related to your gender or sexual identity and need more support, check out the Glow Centre on campus or visit counseling services. There are now counselors with lived experiences related to coming out that can help you navigate your feelings. If you're looking to chat with other university students, Glow, Mates, and the Women's Centre and many other programs all run peer support services, which can be booked online. There are other great support programs in the Waterloo Region like OK2BME and Spectrum.
For a full list of resources, check out Glow's page on the WUSA website. And don't forget to tune in to some of the awesome events being held this week like Glow's WUSA Takeover on October 20!