2019/2020 Winners of the WUSA Excellence in Undergraduate Teaching Award
Published: Monday, April 26, 2021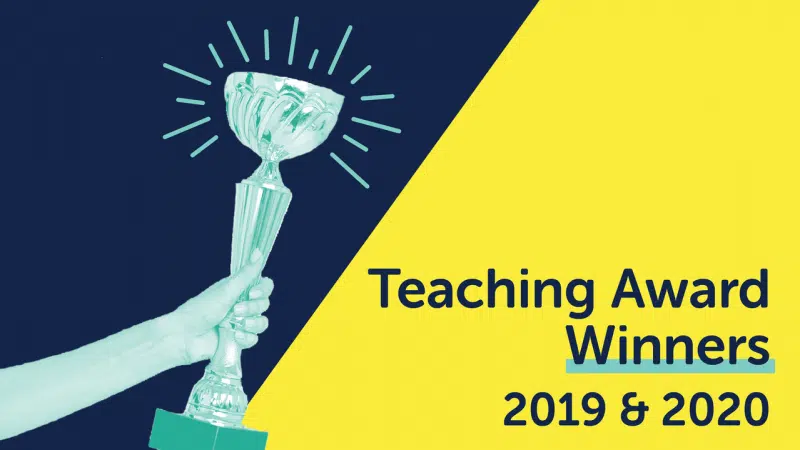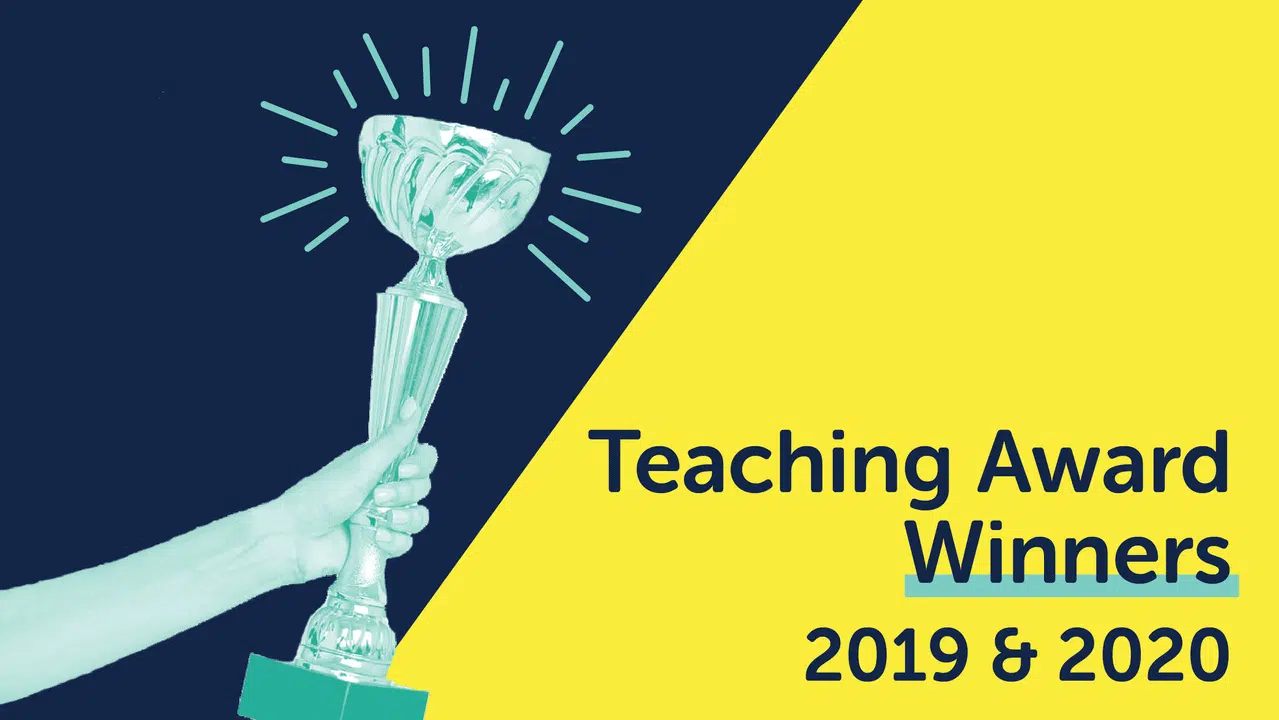 The Waterloo Undergraduate Association (WUSA) could not have imagined the challenge that teaching, working, and learning in a pandemic would bring. Our remarkable community has more than risen to that challenge, and we are announcing the winners of the 2019 and 2020 WUSA Excellence in Undergraduate Teaching Award! WUSA's Teaching Award is a yearly award that celebrates professors who have displayed quality teaching, shown commitment to student success, and looked beyond the classroom. This is also the only award presented by the University of Waterloo Senate selected entirely by undergraduate students! For the years 2019 and 2020 five individuals are being recognized for their outstanding contribution towards undergraduate learning.
We asked our award winners what receiving the WUSA Teaching Award means to them and how they've contributed to the undergraduate student learning experience? Let's hear what they had to say . . .
2019 Award Winners
Mohammed Nassar (2019 WUSA/OUSA winner)
"I am deeply pleased and honored to receive this prestigious award. l would like to express my sincere thanks to all my students for their support to make this happen. My most memorable moments are when I receive emails from former students telling me how my lectures helped them get coop jobs and how they became interested in electrical engineering."
Veronica Austen (2019 OUSA Winner)
"I am incredibly honoured to have been nominated and selected for this award. In that this award comes from the thoughtfulness of students makes it mean all the more. I've always believed that how we teach — and how well we teach — depends entirely on our students. It is from the energy that they bring to a classroom (or to a virtual discussion as the current case may be) that an instructor can find their own energy, and it is from the willingness that students have to share their ideas that an instructor can grow in their own. As I try to communicate in my courses, literary texts can be a key motivator of social change; they are what allow us to imagine alternate realities and consider alternate ways of being. So, getting to talk about literature and the ideas that it generates is already privilege enough, but it is lovely that my students have valued what we have been able to build to such an extent that they have taken the time to nominate me for this award. I very much appreciate their efforts."
2020 Award Winners
Tara Bissett (2020 OUSA Winner)
"Teaching and connecting with students is one of the most important aspects of my working life. For me, it has always been essential to find ways to have students feel reflected in the course material, in part by crafting interactive assignments that, hopefully, allow for a meaningful learning experience. I believe that it is critical to revise teaching methodologies regularly and attempt new approaches in order to find pedagogies that work for all the students. In this, I undoubtedly learn as much from my students as they do from me. My vision is best expressed in the words of bell hooks, who writes that "the classroom remains the most radical space of possibility in the academy". This award means a lot to me, especially knowing that the initiative for the nomination came directly from my students.
Zack Cramer (2020 WUSA Winner)
"As an instructor and advisor, I have become familiar with some of the many challenges our students have faced over the past year. Students in online courses are responsible for managing a significant portion of their learning and can often feel disconnected from their classmates and instructors. It has therefore been my priority to establish structure, maintain communication, and foster a sense of community in my courses.
Since the start of the pandemic, I have created over 130 short and focused video lessons designed to keep students engaged with their learning and excited about mathematics. I strive to build connections with my students through group office hours and class discussions on Piazza. In my smaller classes, I have been able to get to know my students personally through one-on-one meet-and-greets at the start of the term. Interacting with students and sharing my enthusiasm for mathematics are some of my favourite aspects of teaching, and I am so grateful that these experiences have still been possible while learning apart.
I am truly honoured to have been nominated by my students and WUSA for this award, as it affirms that my students have felt supported and found my teaching to be effective in these uncertain and stressful times. I am grateful for my partner, my colleagues, and the wonderful TAs and OLAs I have worked with over the past year, without whom these successes would not have been possible."
Mark Stewart Dolson (2020 WUSA Winner)
"Teaching at UW isn't really a job to me at all. As hackneyed as it sounds, it truly is a "calling"—and a very serious one at that. When reflecting on my time at the University of Waterloo, I feel that teaching is more akin to a "style of living," "a way of seeing" (in the philosopher John Berger's sense) or a particular "stance on life" when it comes to the world around us, oneself, and one's social relationships. Teaching isn't something that one can ever "master" or "perfect" insofar as each and every student is always going to be completely different—each with her/his/their own particular concerns, wishes, fears, desires, developing suit of interests, etc. As such, one needs to adjust one's teaching to each new course taught, never letting arrogance, over-confidence or hubris guide or influence one's relationship to students. With each and every classroom I've had the privilege to enter (and again, I don't mean this to sound overly dramatic, pretentious or hyperbolic), I enter as somewhat of a novice—a beginner. As I adjust to each class personally (and to each student personally when I can), my teaching "style" adjusts, too. Sure, there are commonalties and patterns sometimes, but if you really take it seriously, and really think about it, teaching is a special kind of moving and dynamic relationship—and like all relationships, there's nothing static or predictable about it (or at least there shouldn't be). And because of this, a serious teacher, a serious "conveyor" of thought or purveyor of ideas and perspectives can't ever rest on their/her/his laurels. One can never get tired, can never get bored, can never conceited because this is, perhaps (at least to me), one the greatest responsibilities of the social world—to enlighten students about ideas, concepts, theories, experience (in my case, storytelling about my experiences as an anthropologist doing fieldwork) processes, structures, interpretations, and all of the politics, moral worlds, and historical trajectories associated therewith. So my take on teaching as a "way of life" (maybe that's the most fitting term) is to exhaustively take that stance, to have that energy, that investment and desire to "show", to "explain" to "tell", and to "think" with students, not over and above them. But how do I do this exactly? Well, I constantly think in, with and through the position of a teacher. I search over books, articles, movies, television, engage constantly with my children, my wife (who's a professor at UW, too), parents, etc. for new ways of relating, new ways of storytelling, and new ways of simply saying, "whoa, check this out, everyone—let's get our heads around this together". This is what teaching is to me. I need to do it, I need to get better at it, and I need to keep learning more to teach more to not only try and help as much as I can, with the ultimate aim to better students' lives, but to better myself in the process. I felt this grow inside me once I had kids, but as soon as I started teaching at university it developed to such an extent that I feel that I need to teach—in order to keep going."
Congratulations to all the winners! Thank you for your contributions and commitment to the University of Waterloo community!