2021 Winners of the WUSA Excellence in Undergraduate Teaching Award
Published: Friday, July 15, 2022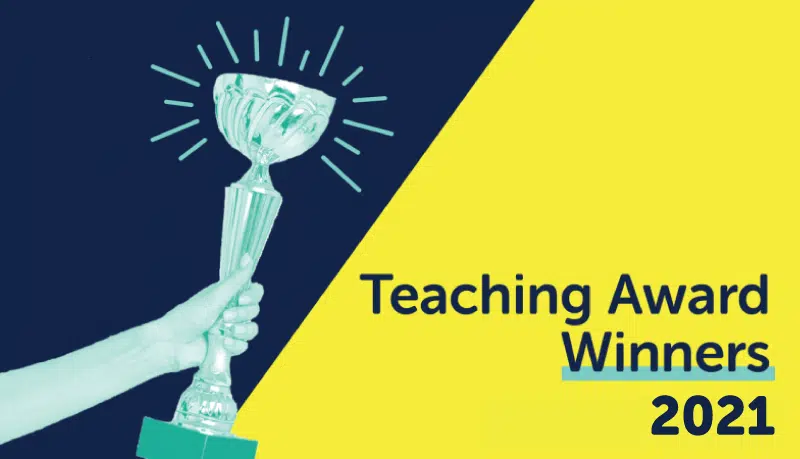 The Waterloo Undergraduate Association (WUSA) is excited to announce the 2021 teaching award recipients!  
WUSA's Teaching Award is a yearly award that celebrates professors who have displayed quality teaching, shown commitment to student success, and looked beyond the classroom. This is also the only award presented by the University of Waterloo Senate selected entirely by undergraduate students!  
The UW community has a dedication to academic achievement and to creating a culture that fosters, supports and celebrates teaching excellence. Excellent teaching creates excellent student life for our members. 
For 2021, three individuals are being recognized for their outstanding contributions to undergraduate learning. Check out the below to see our 2021 recipients and one (of many) testimonials received during the nomination period! 
Laura Ingram (Faculty: Science)
"Dr. Ingram deserves this award because she genuinely engages her students in all aspects and concepts of chemistry. She always tries her best to uplift us and make us feel less stressed and relaxed whenever quizzes/tests/examinations are approaching. Her teaching style is fantastic, she includes active recall methods before every lecture and extra practice after every unit/module. She truly is an amazing professor and made my transition from high school into university less stressful and more fun!" 
Anton Mosunov (Faculty: Math)
"Anton [is] a great professor. When I was struggling in the course, he made time to help me outside of his office hours and had prepared extra practice for me. He is so kind and I will forever be grateful for his extra efforts in helping me succeed. He employed innovative teaching methods from the book he was reading at the time that were proven to be the most successful for students. By researching how to teach students in the most effective way, his dedication to helping his students succeed was evident. He was a joyful, passionate and engaging instructor and I really enjoyed his class." 
Anton Mosunov is a supporter of Ukraine and the Ukrainian people in their fight for territorial sovereignty. Together with democratic activists from Toronto, he has organized a number of peace rallies and joined many rallies organized by the Ukrainian Canadian Congress. He would like to take this opportunity to remind people to keep Ukraine in their hearts and donate at https://savelife.in.ua/en/donate-en/ #StandWithUkraine 
Nick Ray (Faculty: Arts)
"Nick is a brilliant professor. He engages us with humour and personal anecdotes to help us better understand the concepts we are learning and to prompt our critical thinking. His class is the kind of class you WANT to participate in and as a result our class is doing very well. He really makes the class his own rather than merely regurgitating the basics – diving into films like Ex Machina and allowing us flexibility in our projects and assignments as well as assigning us frameworks to submit information (such as online blogs and collaborative PechaKuchas). We are allowed to choose any area of focus for our projects which interest us whether it be animal minds, artificial intelligence, self-driving cars etc.
Depending on your interests, Nick will also recommend sources outside of the ones provided in class for you to further your learning. He clearly wants to see us succeed and makes himself easily available to us. Additionally, he set aside time to coordinate Library Workshops with the librarian so that we can learn how to engage academically in the correct way with writing/research and gave us class time to work on group projects.
…
Thank you, Nick, for [your] contributions to our minds about minds. It has been a privilege to attend a class of yours."