Published: Wednesday, June 14, 2023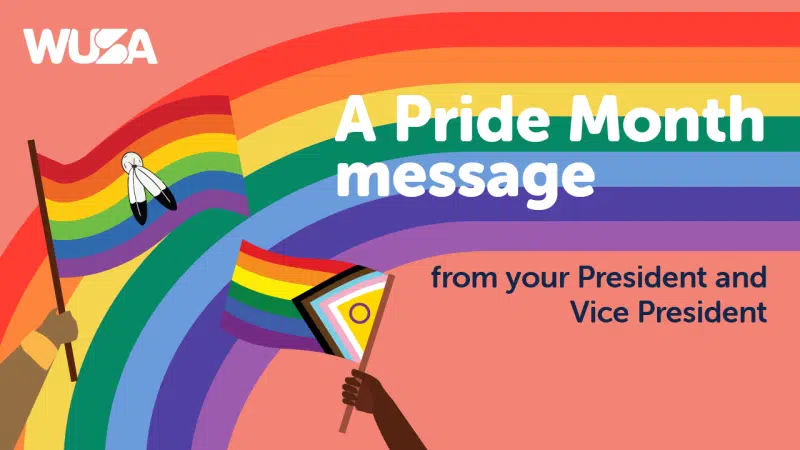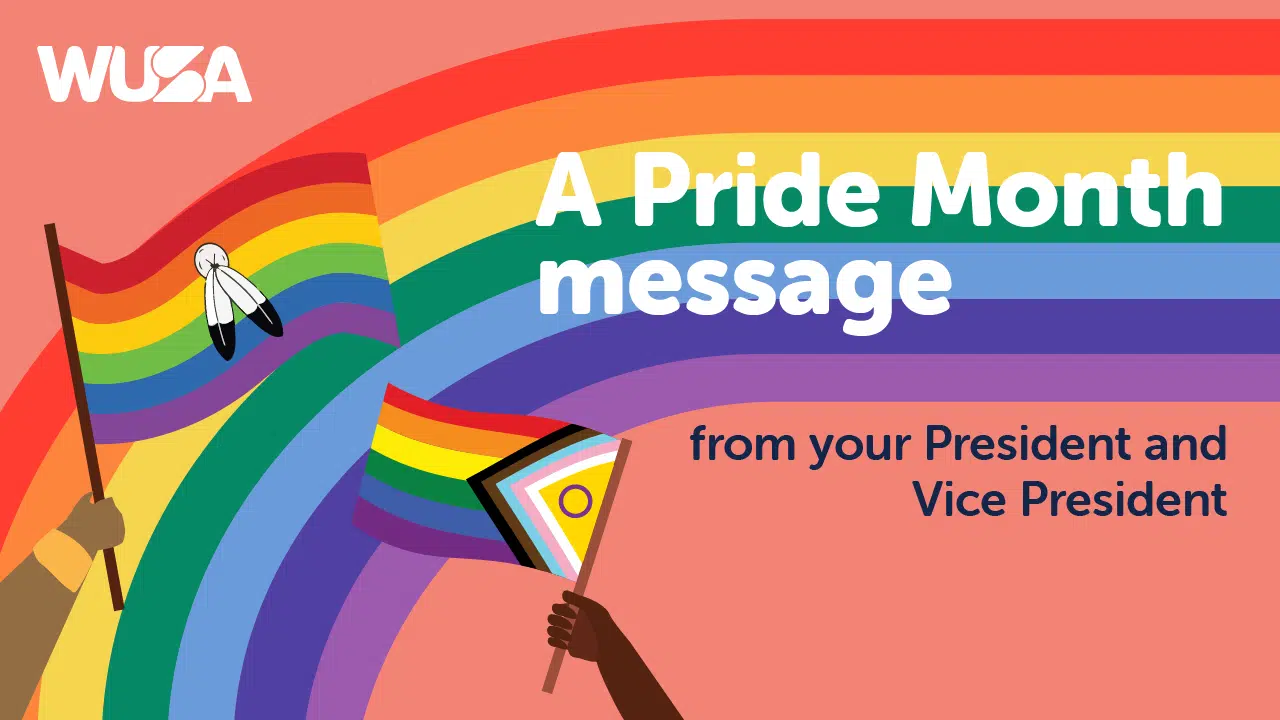 WUSA stands in support, advocates for, and celebrates the 2SLGBTQIA+ community at the University of Waterloo
A June message from Rory Norris, President of WUSA, and Katie Traynor, Vice-President of WUSA
The Waterloo Undergraduate Student Association (WUSA) is proud to celebrate the diverse, vibrant, and historical 2SLGBTQIA+ communities we have on-campus. In June, the annual Pride Month appreciates, raises awareness and acknowledges the achievements of the 2SLGBTQIA+ community. Pride Month is not only a time to raise awareness of specific 2SLGBTQIA+ community-facing issues but gives our student body a wider opportunity to speak on the ever-growing need for equity, justice and inclusivity at post-secondary institutes and beyond.
WUSA has taken great strides as a student association through one of the longest running students 2SLGBTQIA+ services – The Glow Centre, which was founded in 1971 and continuously supports queer and trans students on campus and across Canada. We would like to bring special attention to the recent achievements of Glow in the advancements in developing gender-inclusive bathrooms at the University of Waterloo.
Over the last few months, The Glow Centre, and Office of Equity, Diversity, Inclusion and Anti-Racism has worked tirelessly to advocate for and implement the first phase of gender-inclusive bathrooms at different on-campus locations. This achievement by members of our University of Waterloo community is a step forward in creating a more inclusive campus by alleviating challenges students face when accessing gendered washrooms on-campus.
WUSA also supports the University of Waterloo's progress in ensuring that hateful, harmful and violent rhetoric targeting campus communities is not tolerated. WUSA encourages students to seek support in cases of experiencing harm, discrimination, marginalization, or of similar struggles during Pride Month to connect with Campus Wellness or the Office of Equity, Diversity, Inclusion and Anti-racism. Additional support that WUSA provides can also be found through our student-services such as: The WUSA GLOW Centre, WUSA Mates, WUSA Raise, the Women's Centre.
There are still many milestones that must be taken to further progress for equity, justice, and inclusivity at post-secondary institutions. At WUSA, we are committed to our continuous advocacy work and taking strides towards a more accessible and inclusive academic and social sphere at varying levels of government and academic institutions.
Pride Month is our time to stand in solidarity with the 2SLGBTQIA+ community – including all students, staff, faculty members, and alumni. Let us recognize the 2SLGBTQIA+ communities who have continued to face disproportionate cases of discrimination at different stages of their post-academic life and continue ongoing efforts to raise awareness and advocate for justice for our 2SLGBTQIA+ communities. Let us continue to stand in solidarity with the 2SLGBTQIA+ communities who dedicate their time to provide a voice, sense of belonging, and play a unique role in catering to our 2SLGBTQIA+ campus community.
This month you can explore the University of Waterloo campus to see Pride colors displayed at main campus locations on rainbow walkways outside of the Dana Porter Library and North and South main entrances of Campus. Or celebrate the Two-Spirit Pride flag which will be flown this month alongside the Intersex-inclusive Progress flag. There will also be many events and celebrations occurring throughout the month of June to celebrate Pride and Indigenous History Month which WUSA encourages students to engage in including the Glow Centre Pride Picnic on Monday, June 19, and the Toronto Pride Parade trip on Sunday, June 25.
WUSA recommends that students take time this June to learn how to celebrate and advocate for 2SLGBTQIA+ communities and Pride Month. Ways that you can engage includes learning more about the history of our 2SLGBTQIA+ communities and in Canada. Learn about the various meanings of Pride flag and begin to rock the rainbow! Attend and support Pride and other 2SLGBTQIA+ events! And connect with local 2SLGBTQIA+ communities and learn about Two-Spirit & Indigiqueer History.
At the University of Waterloo, you can find the following 2SLGBTQIA community and resources:
BIPOC Graduate Student Collective

GSA Equity Coordinator gsa-equity@uwaterloo.ca

EngiQueers

engiqueers@engsoc.uwaterloo.ca

Gender and Sexual Diversity Working Group (GSDWG)

Gender Variant Working Group

wwgender.variant@gmail.com

Glow

glow@wusa.ca

Indigenous Student Association

indig.uw@gmail.com

QTPOC-KW

qtpoc.kw@gmail.com

Raise

raise@wusa.ca

UW Drag Club

uwdrag@clubs.wusa.ca

Women's Centre

womenscentre@wusa.ca
*Alternative Source – 2022 Imprint Issue
In Waterloo Region:
| 2SLGBTQIA community | Description |
| --- | --- |
| Spectrum: Waterloo Region's Rainbow Community Space | Events and resources in Waterloo Region. |
| Waterloo Region Rainbow Coalition | WRRC is a volunteer-based community association that acts as a central hub for the local Rainbow community. |
| tri-Pride Community Association Facebook Page | tri-Pride is a community organization that celebrates Pride and diversity in the Kitchener-Waterloo and Cambridge region. |
| QTBIPOC Toronto | QTBIPOC Toronto is a group for 2SLGBTQ+ women, trans and non-binary folx who are Black, Indigenous, People of Colour. They host virtual drinks, paint, board game or video game nights, queer dance parties, and more. |
| QIPOC (Queer Indigenous and Queer People of Colour) Community Hub: | Content created in partnership with House of Anansi, London, ON's QIPOC group. The webpage hosts resources, virtual events and educational information. |
| OK2BME | OK2BME is a set of support services for 2SLGBTQ+ youth in Waterloo Region. |
| Out on the Shelf | Out on the Self is a queer library and resource centre in Guelph that offers services to the 2SLGBTQ+ community. |
| OCASI Positive Space Initiative | OCASI's Positive Space Initiative aims to support the settlement sector to more effectively serve 2SLGBTQ+ newcomers in Ontario. |
| Rainbow Health Ontario | Rainbow Health Ontario strives to create opportunities for the healthcare system to serve 2SLGBTQ+ communities better. |
| Sherbourne Health | Sherbourne offers a wide range of primary healthcare programs and services to lesbian, gay, bisexual, trans, two-spirited, intersex, queer or questioning individuals. Their goal is to provide dignified, non-judgmental services to help clients feel better, cope better with day-to-day challenges and address specific 2SLGBTQ+ health issues. |