2022 Municipal Elections: Why you Should Vote
WUSA
Published:
Friday, September 23, 2022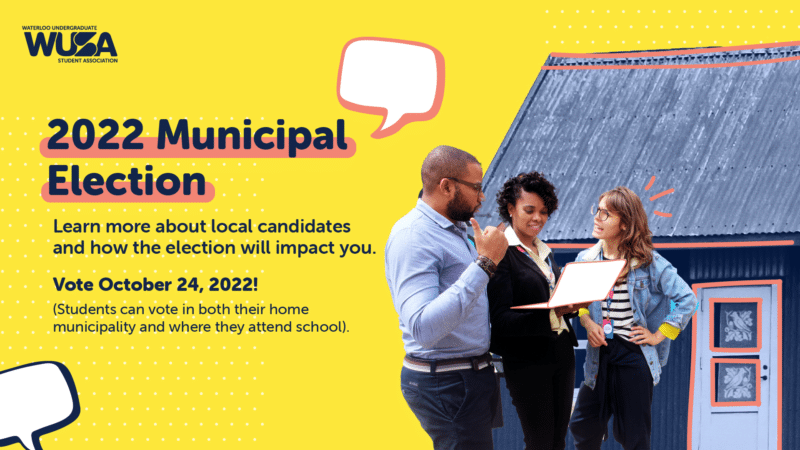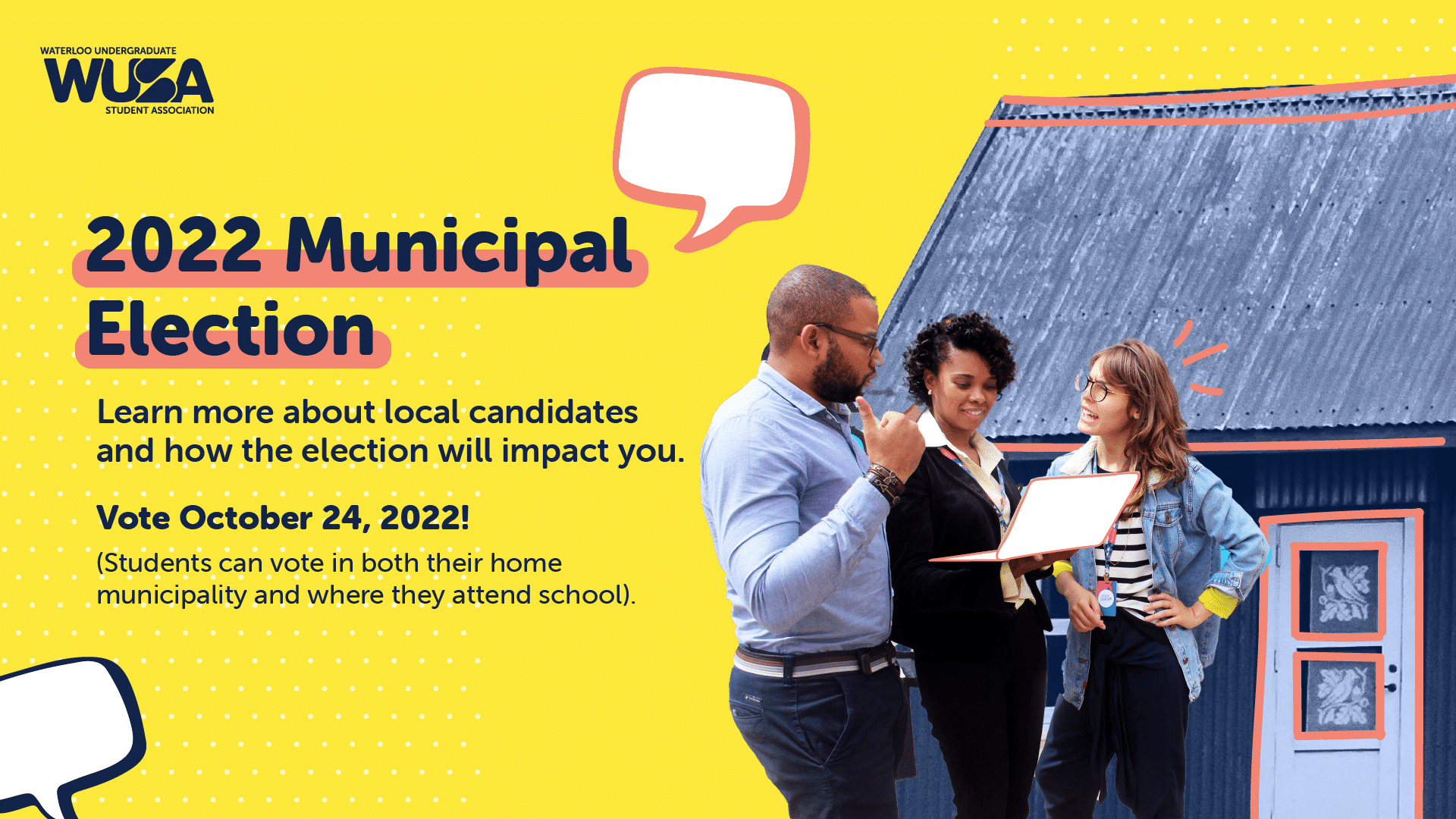 You may have noticed there have been a lot of elections recently. Last September, we had a federal election to choose Members of Parliament (MPs); this year, there was a provincial election in June to pick Members of Provincial Parliament (MPPs), and WUSA held elections for its Board of Directors in July to oversee and advocate for the supports and services offered to undergraduate students across the University of Waterloo. 
Every four years, Ontario holds Local Government elections —that means choosing Regional, Municipal, and School Board representatives—on the third Monday in October. 
Next month, on October 24th, every Canadian Citizen who is 18 years of age and older and resides in Ontario will have the opportunity to say who they want to represent them as Regional Chairs, Mayors, Regional and City Councillors, and School Board Trustees in their local municipalities and school boards.    
Why should you care about all these different elections and levels of government? Because they all impact different aspects of your life. 
The Federal government (The Government of Canada) is responsible for areas such as:
national defense (the military)

 

foreign affairs (diplomacy and immigration)

 

air and rail travel rules

 

the banking system

 

federal taxes

 

Employment Insurance

 

criminal law

 

and the Post Office
The provincial government (The Government of Ontario) is responsible for areas such as: 
Primary and Secondary Education
Colleges and Universities
healthcare (doctors, hospitals, dental care)
provincial taxes
consumer protection and labour laws
housing regulations

 

driving laws

 

alcohol, tobacco & gambling regulation
cannabis sales
Local governments (Regional, City and School Boards), with support from the provincial and federal governments), are responsible for areas such as:
police, ambulance, fire services

 

public transit

 

recycling and waste collection

 

water and sewer services

 

building permits and zoning regulations

 

road and sidewalk maintenance (including snow removal)

 

licensing and control of pets
parks
and the operation of primary and secondary schools (through School Boards)
These are just a few examples of how the different levels of government can touch different aspects of our lives every day. 
Regional and city governments provide many of the services and support we use daily. They are responsible for what happens right outside your front door. More than that, local governments can also advocate to the provincial and federal governments for support to make your lives easier and more prosperous.
Check out WUSA's Local Elections page for more details on how to vote, where to vote, and links to find your local candidates across Waterloo, Kitchener, Cambridge, and Stratford.
Vote on Monday, October 24th!  
Questions? Email us at advocacy@wusa.ca