Welcome Denver Della-Vedova, WUSA's 2022-2023 Vice President 
Published: Thursday, September 29, 2022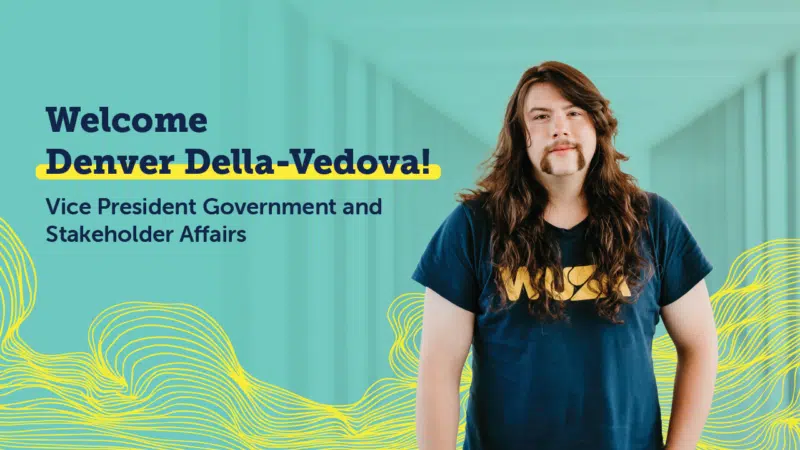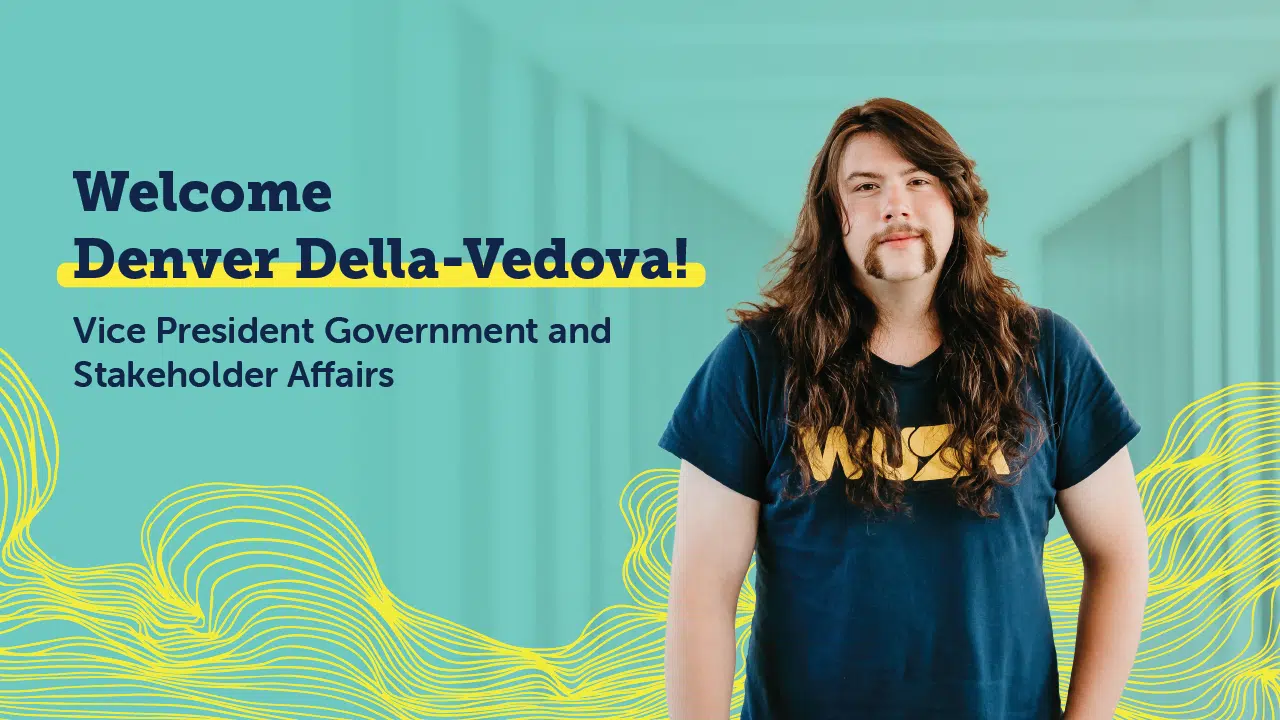 Welcome Denver Della-Vedova (he/him) to the WUSA Board! Denver is the 2022-2023 WUSA Vice President Government and Stakeholder Affairs, bringing with him previous experience as President of McMaster's Students Union (MSU) and chair of Undergraduates of Canadian Research-Intensive Universities (UCRU). He brings with him a wealth of advocacy knowledge that will be extremely beneficial in helping continue to move our advocacy priorities forward this year.   
In his role with WUSA over the next 8 months, Denver will be taking on external advocacy initiatives and working with WUSA full-time staff on Municipal, Provincial, and Federal affairs. With his previous work as MSU President, we hope to draw upon his governance experience to help implement the new governance model that was implemented at the start of this term. Denver's fresh ideas and external perspective will be welcomed as we chart our path forward in this new model. Learn more about Denver below in this short question and answer piece pulled together by the #yourWUSA Communications team.  
What do you want to accomplish in this role?
I would like to develop a strong platform for advocacy for the future of WUSA. We have a talented team and are in a strong position to successfully move forward, but I want to ensure the follow-through on this happens with the governance restructure that occurred.  
What makes you a good fit for this position?
The previous experience I carry forward from MSU is what makes me best suited for this role. With my previous familiarity with not-for-profits, student governance, and admin, I will have a strong foot forward in this coming year.  
As a McMaster grad, how did you end up at WUSA? What has your experience been like at Waterloo so far?
I heard WUSA had an unfulfilled position and was approached about a potential interview for the position. After a discussion with the WUSA Board – I was selected by them for the role. Because I was appointed and not elected, my position will be a non-voting role for this governance term.  
What are your top priorities and passions, as related to your role?
My top priority would have to be mental health resources. After the last few years, I have personally struggled with this and recognize how hard resources and support can be to get. I hope to find ways to alleviate some of the stressors, or better enhance the services provided for students this year!  
What was your favourite WUSA Welcome Week moment?
My favorite moment was a conversation I had with a student when asking for directions to the SLC (Student Life Centre) Timmies, where we connected over the experience of growing up in a small rural town and the challenges that come with the transition to larger cities. Making connections like this with our members is a key component to this role.  
What are you most looking forward to during your time here?
The thing I look most forward to are the conversations I will have with students. I love conversing with members, hearing unique perspectives, innovative ideas, suggestions, and gathering feedback for WUSA and the University of Waterloo. These conversations are where we as a student association gain insight to grow and learn the most.  
Where is your favourite place to eat on campus?
My favourite place to eat on campus so far is a tossup between Wasabi Sushi at INews and Quesada (even though it's not a WUSA-run business)!  
Thanks for taking the time out of your packed schedule, Denver! We look forward to talking to you more over the coming months.  
WUSA Members, please join us in welcoming Denver to the team! We hope you will have a chance to meet him in person and have a conversation over the next few months!  
Want to learn more about how to get involved in WUSA Governance? Our next General Election will be happening in the spring term, and we'll be looking for students just like you to get involved. Stay tuned to our Instagram, Twitter and LinkedIn accounts and be sure to check out WUSA News & Updates often.