Published: Friday, October 14, 2022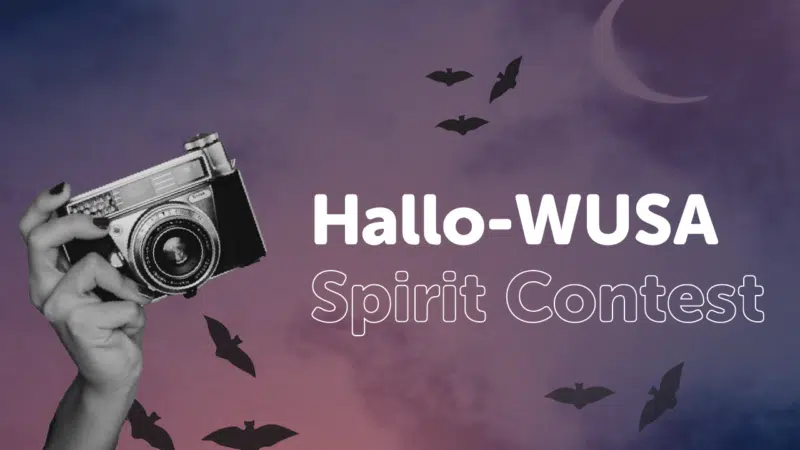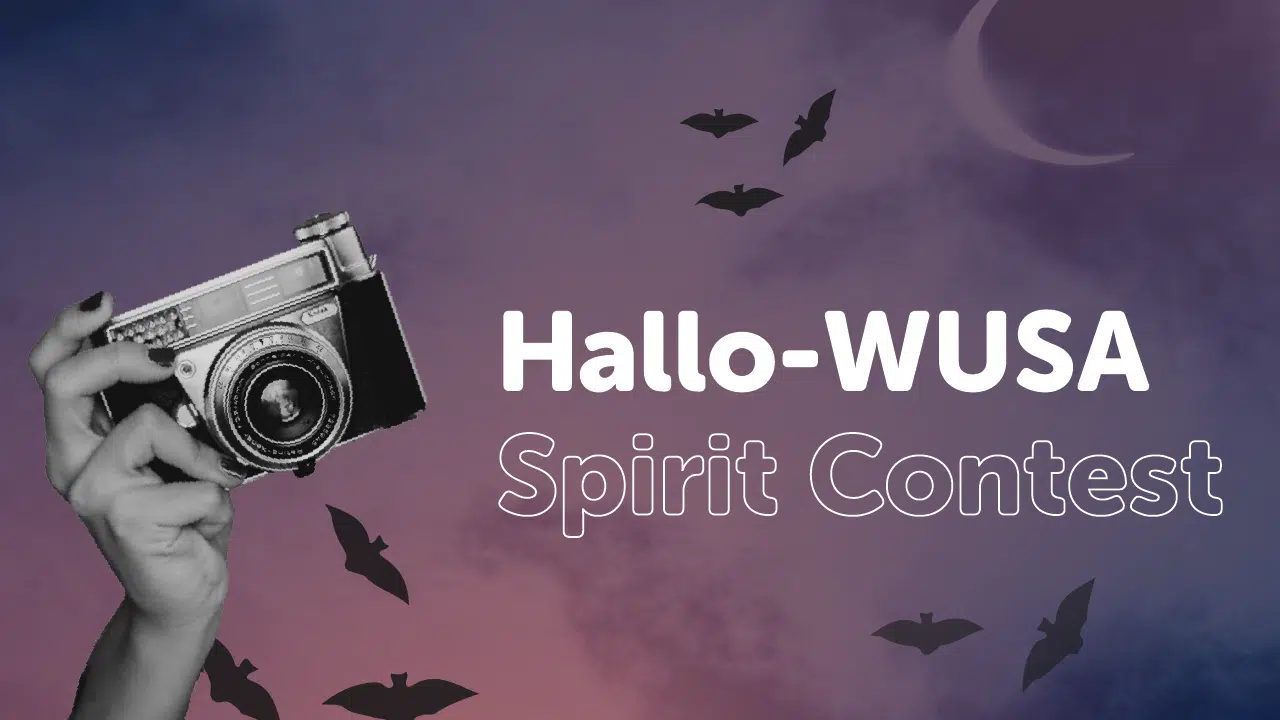 Hallo-WUSA Spirit Contest
Terms & Conditions
Submit a photo of you showing your Halloween spirit to the WUSA submission form to be entered in a draw for a chance to win 2 tickets to Screampark at Bingemans in Kitchener for Oct 27th at 7pm and a $50 gift card to Spirit Halloween. More photos submitted = more entries, max number of entries is 10. The contest runs until October 22nd at 11:59pm. Terms & Conditions and more details below: 
You must be signed in with your uwaterloo email account to view the form 
HOW TO ENTER 
No purchase required. 
Submit a past or current photo(s) of you showing Halloween spirit to the WUSA submission form. 
Click here for the submission form: https://forms.office.com/r/Sb4phnjAj5 
More photos submitted equals more entries. A maximum of 10 entries per person per event (i.e. you can upload a max of 10 photos for 10 entries). If entrants attempt or are suspected of attempting to enter using robotic, automatic, programmed or any entry methods not authorized by these rules, it shall be deemed as tampering and will void said entries. Hate or hurtful speech, bullying, and/or harassment will result in a ban from the contest and potentially future contests held by the @yourWUSA, or any affiliated WUSA, social accounts. 
ELIGIBILITY 
The contest is open to all current University of Waterloo undergraduates. 
Photos pertaining to the category of "Halloween Spirit" are only eligible. Any other photos will not be counted. 
Halloween Spirit photos that are eligible include, but are not limited to, past or current photos of: 
Halloween decorations (inside, outside, Halloween themed home decorations)

 

Trick or treating

Halloween themed food/baked goods

 

Pumpkin carving

 

Costume pictures (individual, group, pet, etc.)

 

Halloween makeup/special effects makeup

Halloween themed fashion

 

Halloween themed art or crafts

 

You participating in Halloween themed activities/Halloween events, attractions, etc.

 

Halloween themed/scary movie night

 

And much more

 
PROCEDURE FOR AWARDING PRIZE 
On Monday, October 24th, a random draw will be conducted by the WUSA Communications Team from among all eligible entries.  
The winner will be notified that their name was selected only by the @yourwusa account through the direct messaging functionality on Instagram or by email no later than Tuesday, October 25th at 11:59pm.  
A WUSA team member will ask for your name, program, year of study, UWaterloo email address, and to correctly answer the mandatory mathematical skill-testing question.  
Once the questions are answered and the entrant is confirmed to be a current undergrad, they/she/he shall be declared the winner, subject to meeting all the conditions described in these rules.  
If the winner cannot be reached within 5 business days following the first attempt of contact, incorrectly answers the mathematical skill-testing question, or declines the prize, the prize shall be forfeited and WUSA has the right, at its sole discretion, to select another winner by following the procedure as outlined above. 
DESCRIPTION OF PRIZE(S) 
Total contest retail value: $143.64 (including tax) 
For this contest, there will be 1 contest winner. 
Two tickets to Screampark at Bingemans in Kitchener for Thursday, October 27th, 2022 at 7pm – Retail value of $93.64 (including tax)* 
One $50 Spirit Halloween gift card – Retail value of $50 
GENERAL TERMS AND CONDITIONS
5.1 Entries must be submitted via the official contest form [https://forms.office.com/r/Sb4phnjAj5. Entries sent in other ways will not be accepted.  
5.2. To be declared a winner, the selected contestant must first correctly answer a mathematical skill-testing question  
5.3. The photographer(s) must be the author(s) of the pictures submitted in his/her/their name. 
5.4. Photographs must be displaying the entrant's Halloween spirit. Any other photos will not qualify. 
5.5 This Contest is not sponsored, endorsed or administered by, or associated with, any social media platform, Spirit Halloween, or Bingemans.  
5.6. The prize shall be accepted as is and may not be exchanged or refunded for an amount of money, sold or transferred. No substitutions will be allowed. Any unused portion of a prize will be forfeited. 
5.7. Refusal to accept the prize releases the Contest Parties from any obligation toward the winner. 
5.8. Odds of winning depend on the number of eligible entries. All entries that are incomplete, illegible, damaged, irregular, have been submitted through illicit means, using any robotic, automatic programmed method that artificially increases the odds of winning or do not conform to or satisfy any condition of the rules may be disqualified.  
5.9. Hate speech, bullying, and/or harassment of any kind will not be tolerated and will result in disqualification from the contest and potentially all other contests associated with the @yourWUSA social accounts.  
5.10. If a contestant makes any false statement, they/she/he will be automatically disqualified from the Contest. 
5.11. All personal information, such as name and contact information, is collected by WUSA solely for the purposes of administering this Contest and shall not be used for any other purpose without your express consent. By providing this information, you consent to it being used for the stated purposes.  
5.12. WUSA reserves the right to cancel or suspend this Contest should a virus, bug or other cause beyond their reasonable control corrupt the security or proper administration of the Contest. 
5.13. WUSA reserves the right to amend the Contest rules or to terminate the Contest at any time without any liability to any contestant. Any amendments to these Contest rules will be posted on the Website. 
5.14. WUSA reserves the right to use or not use any of the photos submitted by contestants in the Hallo-WUSA 2022 campaign. 
5.15. Contest winners must be WUSA members (I.e. current University of Waterloo undergraduate students) 
5.16. By entering, you agree to abide by the Contest rules.