Earth Day: Catching up with WUSA Sustainability Commissioner
Published: Friday, April 22, 2022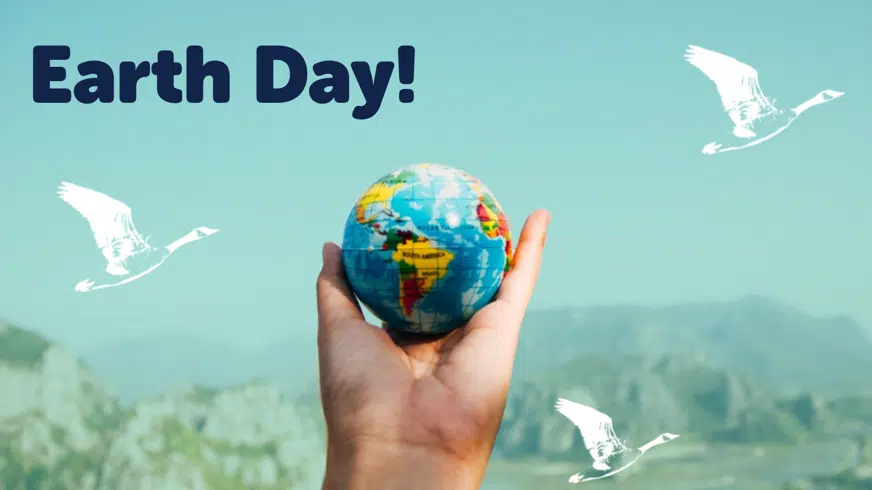 Earth Day started in 1970, so it's been happening for over fifty years! This year's theme is Invest in Our Planet. So, how is WUSA investing in our planet? We met up with the sustainability commissioner to see what kind of projects are happening on campus.
Jenna Phillips is the second ever WUSA sustainability commissioner. She guides her work by trying to think if the actions we take today can be done 20 years down the road. This includes how actions impact the environment, but also people, economy, and culture. This term, Jenna founded the Student Sustainability Committee which is a group has one student from each faculty come together to share ideas about how to make their own departments more sustainable. Some of their projects look into orientation activities, society events, and lab courses.
Earth Day is not the only day we need to care. It is a day set aside for us to reflect on our actions and look to how we can change in the future. What can you do throughout the year to incorporate more sustainable practices into your life? Where can you get involved on campus and in your local community with different sustainability projects?
Be sure to check out some other WUSA groups this Earth Day, like the Impact Alliance and Campus Compost for more info and cool events! For more details about what the University of Waterloo has been up to, follow their sustainability site to get new tips on how to be more sustainable in your daily life.
Take a look below to read Jenna's Winter 2022 Term Recap:
Winter 2022 Term Recap
Wow! What a whirlwind of a term – can you believe that the Winter 2022 term is already coming to a close? As my second of three terms as Sustainability Commissioner and my last term of my undergraduate degree, this is a bittersweet time. It has been an amazing experience to transition back into in-person activities this term. I finally met people that I have been connecting with virtually for two years, and reconnected with peers and Faculty! I am sure many of you can resonate and appreciate this opportunity to connect.
Many exciting things have been going on at the WUSA Sustainability Project this term, which I want to highlight in case you missed them.
Student Sustainability Committee
First, we launched the Student Sustainability Committee! SSC is composed of passionate undergraduate students from each Faculty that are working together to promote sustainable change across the university. They also work independently with their Student Societies to incorporate sustainability considerations into their Faculty-level activities! Our Committee includes:
Arts: Parul Tambe (she/her)
Engineering: Maria Semenoff (she/her)
Environment: Eurus Pan (she/her)
Health: Ainsley Durnin (she/her)
Math: Kunwar Narula (he/him)
Science: Ariana Lim (she/her)
From creating a sustainability survey for students, to hosting a virtual town hall, to working with their student societies on events, and encouraging sustainability in campus labs, this team has been working hard to foster sustainability in the University of Waterloo community. The survey was an important tool to understand student perspectives about sustainability on campus. We had responses from every Faculty, which really helped build a robust understanding of the values and priorities of our student body. Thank you to those who filled it out. Your voices are heard and will help direct our future initiatives at WSP!
WUSA Thrift Store
At long last, the campus thrift store is almost ready to open! COVID-19 was a big barrier to the store, but after hiring our Manager, organizing the donations, and generating a lot of excitement, the store is almost ready! Stay tuned on our social media for an official opening announcement soon.
Sustainability with President Goel
A really exciting initiative that took place this term was an opportunity for student sustainability leaders across campus to meet with President Goel to discuss sustainability concerns on campus and ask about the university's strategic priorities. This was coordinated by the Sustainability Office, and we had representation from the Sustainability Committee, the Sustainability Literacy Requirement group, Campus Compost, Impact Alliance, and more! The conversation was lively and thought-provoking. President Goel was very welcoming and made us all feel heard and valued in the conversation. These types of conversations with senior leadership are critical for advancing sustainability priorities on campus. It helps steer strategic directions, obtain resources to implement initiatives, and centralize sustainability as a campus priority.
Sustainability advocacy
Myself and some of the Committee members had the opportunity to participate in a variety of other initiatives over the term. From hosting an in-person sustainability workshop during the Orientation Team training in March, to sitting on panels for University of Waterloo student groups and other university's sustainability groups, to running social media takeovers, it is great to see sustainability growing as a priority in our community.
What's next?
With the Winter term wrapping up, it's time to start planning for the Spring term! WSP already has a few plans that you will be excited about. These include a virtual tour of campus to showcase the sustainability resources you can access, collaborations with campus groups, especially the thrift store as it gets up and running, and hopefully more in-person activities. The Bike Centre will be opening again, so we definitely want to collaborate with them (Bike Month is in June, after all)!
If you have specific ideas for projects that you think WSP and the Sustainability Committee should take on, let WSP know! Our inbox (wsp@wusa.ca) is always open and accepting of new ideas! You can also message us on Instagram (@wusasustainability) or tag us in your posts/stories to call attention to specific projects you are working on. Moving forward, we will be using the results from the sustainability survey to inform small-scale projects and collaborations over the Spring term, and prepare larger-scale projects for the Fall term when lots of new students will be joining the Waterloo family.
Thank you to everyone who engaged with WSP this term, and to those who seek to prioritize sustainability throughout your life. Your efforts inspire me to keep taking action, both as Commissioner and in my personal life. I am honoured to be in this role at the University of Waterloo, where I see so much innovation and change-making happening. I can't wait to see what comes next, and what innovative ideas you all continue to come up with.
Keep on changing the world, Warriors! 
Jenna Phillips (she/her),
Your Sustainability Commissioner