WUSA's First Year Fair
We are thrilled to welcome you to Waterloo!
WUSA's First Year Fair is an opportunity for new University of Waterloo undergraduate students to learn what it means to be a WUSA member!  
Be sure to come by and learn about the many WUSA student-run services. You'll have a chance to participate in fun activities throughout the day. You'll also have an opportunity to learn more about our clubs, advocacy initiatives, and enjoy FREE Cookie DOH from Flock Stop, and free ice cream at our ice cream bar located in the SLC greenspace! Vegan option will be available.
*Ice Cream Flavours:
Vanilla
Cookies & Cream
Moon Mist
Chocolate Fudge Brownie
Strawberry
*Made on equipment that makes products containing milk, egg, peanut, soy, tree nuts, and wheat.
Vegan Option:
That's not all! One lucky Waterloo undergrad student will have a chance to win the WUSA Ultimate Prize Pack! Students who check-in to the event will be entered into the draw.
To start your adventure, students will be asked to check in to the WUSA check-in booth in the SLC Great Hall and snap a picture of the map below.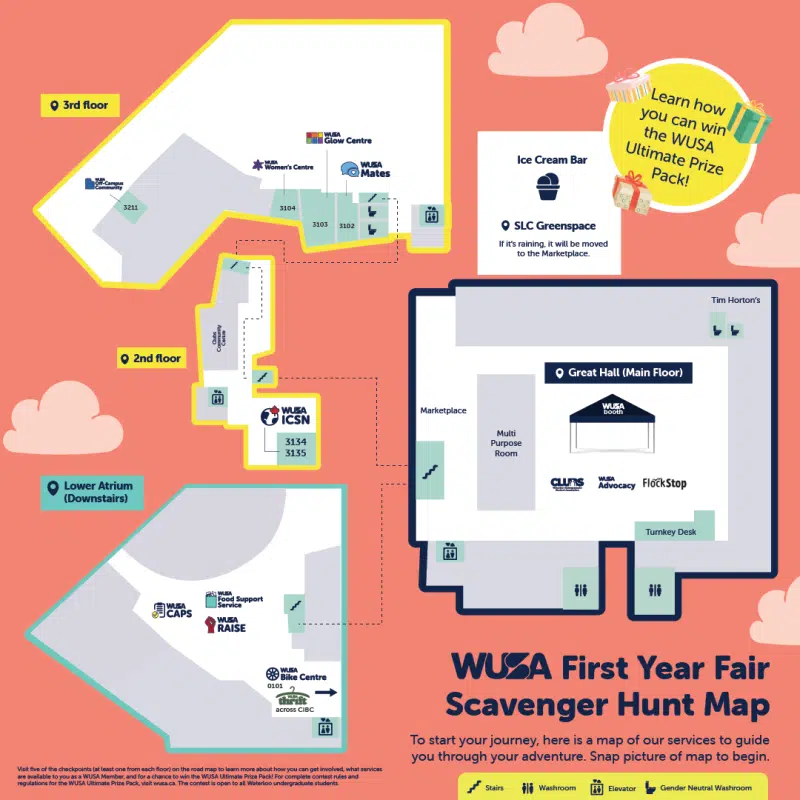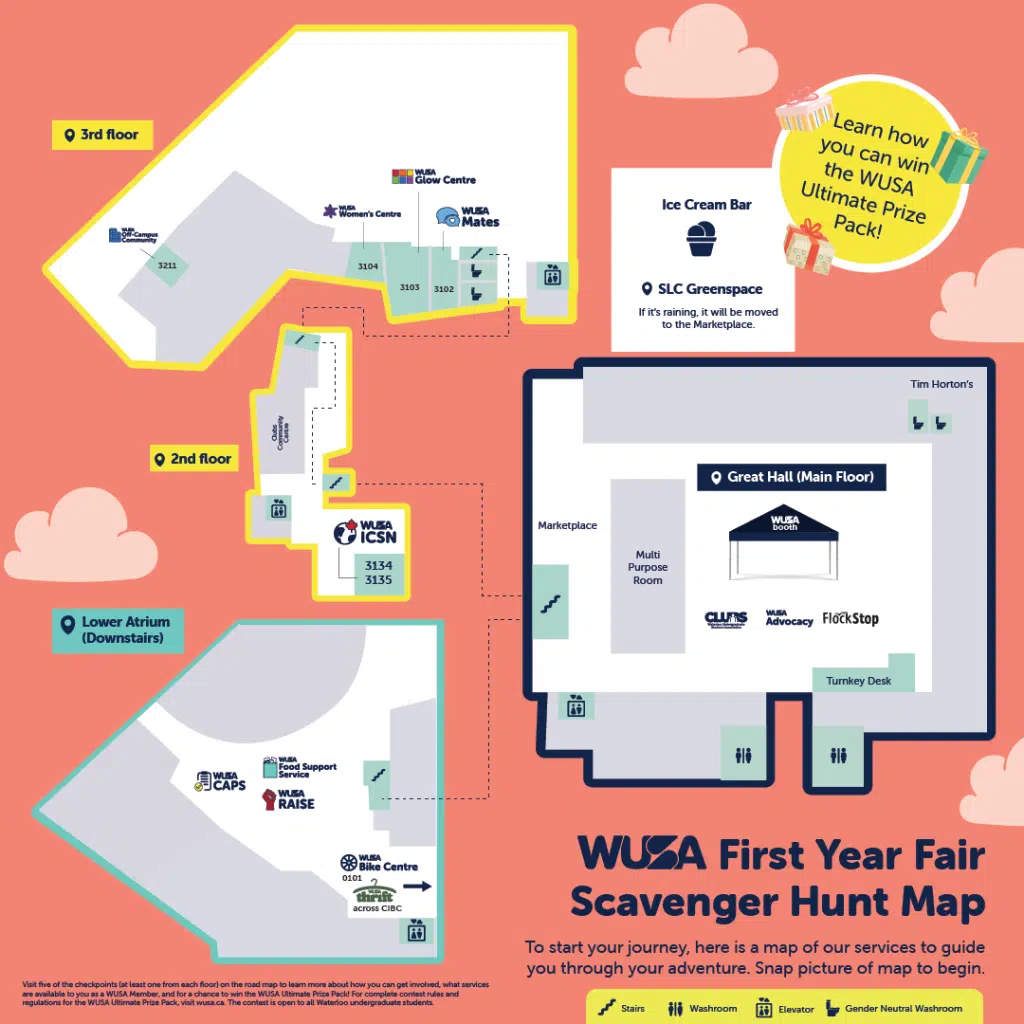 Visit five of the checkpoints (at least one from each floor) on the road map to learn more about how you can get involved and what services are available to you as a WUSA member. Once you have visited the checkpoints, return back to the WUSA checkout booth to get your ice cream ticket and be entered into a bonus entry for a chance to win the WUSA Ultimate Prize Pack. The contest is open to all Waterloo undergraduate students and will close on September 30th, 2023.
This FREE event is open to all Waterloo undergraduate students.
We look forward to seeing you there!
Questions related to the event? DM our Instagram @yourWUSA.
Disclaimer: Photographers & videographers will record this event. Images and audio may be broadcast, reproduced and/or made available in print publications, online or on mobile devices, and may form part of one or more audio-visual productions intended for initial release on the internet, television and on home or mobile devices. By attending this event, you are consenting to the use of your appearance, image, and voice in the production and in any promotion or use of the production in any media throughout the world.